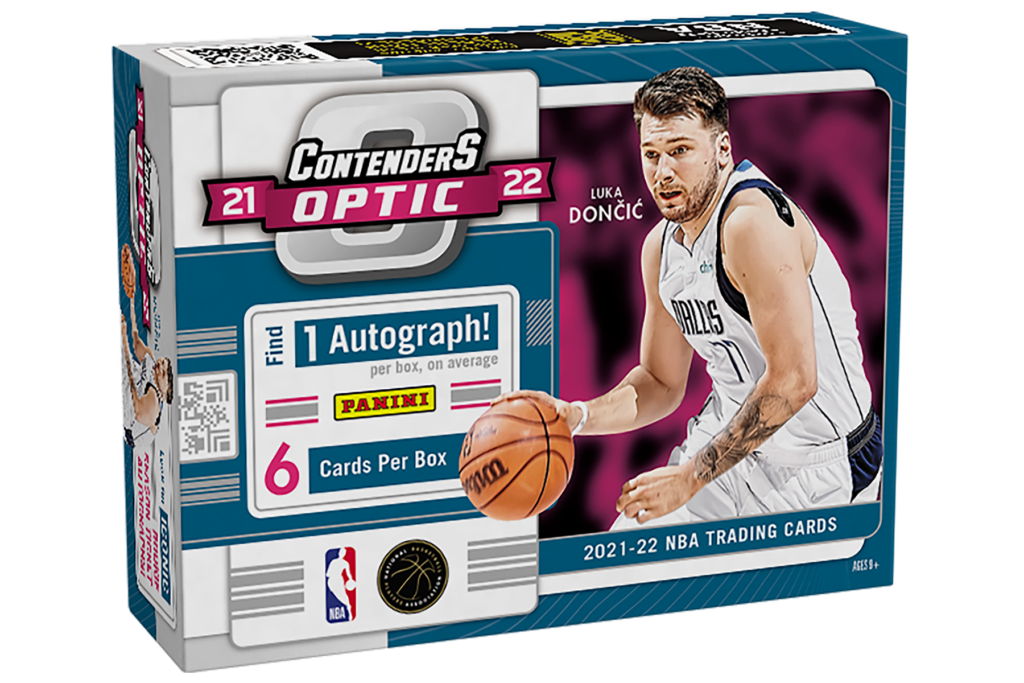 RELEASE DATE:  Wednesday, December 14th at 11am (CST) at the Panini Direct Store
PIS DOCUMENT:  21-22_ContOpticBK_Hobby
DETAILS: Contenders Optic is one of my favorite products of the year! It's a quick rip (six cards per box) and the autographs are often on-card! So with no further adieu, I'd love to announce the release of 2021-22 Contenders Optic NBA Basketball! Chase on-card autos of you favorite rookies from the 2021 NBA Draft Class, and look for the always popular Gold (/10) and Gold Vinyl (1/1) parallels, amongst others. Catch more details below, as well as a sneak preview of the product.
PRODUCT BREAKDOWN:
Contenders Optic is back featuring the fan-favorite opti-chrome technology.
Hobby boxes of 2021-22 Panini Contenders Optic NBA Trading Card Box  contain six cards per pack and one pack per box!
Look for one Autograph, two Inserts, two Parallels, and one base Season Ticket per box, on average!
Look for on-card autographs in Rookie Season Ticket, Rookie Variation Season Ticket, Veteran Ticket, and 1984 Tribute Autographs.
Find popular inserts such as Lottery Ticket, Uniformity, and Superstars along with a brand new insert set, Legendary Tandems.
Search for a variety of parallels including Silver, Red, 75th Anniversary, Blue (#'d /99), Orange (#'d /49), Green Pulsar (#'d /25), Black Pandora, Gold (#'d /10), and one of one Gold Vinyl. Also, find insert parallels Red and Blue
Cracked Ice.
Look for the Hobby Exclusive SSP Black Pandora Parallels, which are randomly inserted in Contenders Optic boxes!
*All information is accurate at the time of posting – content is subject to change.
SHOP THIS PRODUCT:   CLICK HERE
VISIT: http://www.PaniniAmerica.net
Also connect with us on:
Discord:  https://discord.com/invite/9PUgPHSdxq
Instagram: https://www.instagram.com/PaniniAmerica/
Twitter:  https://twitter.com/PaniniAmerica/
Facebook:  https://www.facebook.com/PaniniAmerica/