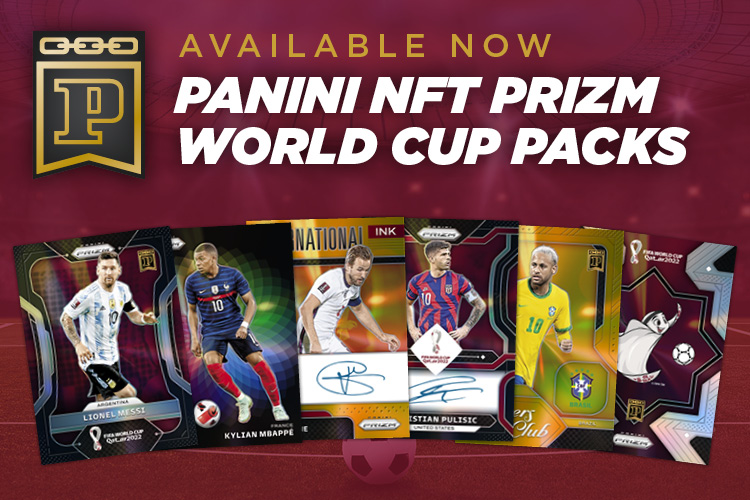 RELEASE DATE:  Monday, December 19th at 10am (CST) – $10/per pack
CHECKLIST:  2022_Panini_NFT_Prizm_World_Cup_Checklist
DETAILS:  The 2022 Panini NFT Prizm World Cup packs contain three NFTs per pack. Each pack guarantees: two Base NFTs (#'d to 1399) and one Auto, Parallel or Insert NFT (#'d to 149).
CHALLENGES: When the program goes live we will have six set challenges available for users to complete. As long as the user has the complete set from each individual level below they will get the reward NFT after 30 days.
Base:  Christian Pulisic
Base Silver:  Luka Modric
Base Hyper:  Cristiano Ronaldo
Base Red:  Vinicius Jr.
Base Blue Mojo:  Lionel Messi
Base Pink Mojo:  Kylian Mbappe
Master Insert Challenge:  Manga – When the program launches we will start a Manga Master Challenge. This will contain 25 challenges, and users that collect the first 24 rewards will receive a Pedri Master Challenge Reward NFT.
Rainbow Challenges: Green, Blue, Ice, Purple Mojo, Red Mojo, Choice Tiger Stripe – For the Prizm World Cup Rainbow challenges. Each week we will have two player challenges go live with the first starting on Monday and ending on Wednesday, and the second starting on Wednesday and ending on Friday.
*All information is accurate at the time of posting – content is subject to change.
SHOP THIS PRODUCT:   CLICK HERE
VISIT: http://www.PaniniAmerica.net
Also connect with us on:
Discord:  https://discord.com/invite/9PUgPHSdxq
Instagram: https://www.instagram.com/PaniniAmerica/
Twitter:  https://twitter.com/PaniniAmerica/
Facebook:  https://www.facebook.com/PaniniAmerica/