One of Nation's Top Basketball Recruits Becomes First High School  Athlete to Partner with Panini America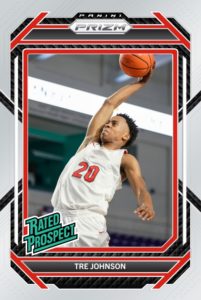 One of Nation's Top Basketball Recruits Becomes First High School Athlete to Partner with Panini America
Irving, TX – June 27, 2023 – Panini America, the exclusive trading card partner of the NBA and the world's largest sports and entertainment collectibles company, has announced an exclusive, multi-year partnership with Tre Johnson, one of the highest ranked basketball players in the class of 2024 and a projected top pick in the 2025 NBA Draft. Johnson becomes the first high school athlete to sign with Panini.
Panini's partnership with Johnson includes autographed trading cards and memorabilia, as he joins the likes of Luka Doncic, Charles Barkley, recent NBA Draft Picks Amen and Ausar Thompson, David Beckham, Christian Pulisic and Kylian Mbappe as Panini exclusive athletes.
"This is a milestone for Panini America, and Tre Johnson will be an excellent partner for our brand," said Jason Howarth, Senior Vice President of Marketing and Athlete Relations. "Not only is he one of the best basketball players in the country, but he's an athlete from our backyard and someone we have had our eye on. We are excited to support Tre and help him grow as he continues to progress in his basketball career."
"It's always been a dream to have my own trading card, and now through my partnership with Panini, it's happening," said Tre Johnson. "I'm excited for my first basketball trading cards and can't wait to keep working together on more fun projects."
A 6'6" shooting guard who played for Lake Highlands High School in Dallas, Johnson recently transferred to national power Link Academy in Branson, Missouri, for his senior season. Multiple recruiting services place him as the top player in his class. Johnson has signed with LIFT Sports Management for NIL representation.
About Panini America
Panini America is a subsidiary of The Panini Group, established over 60 years ago in Modena, Italy with subsidiaries throughout Europe, Latin America and the United States.  Panini is the world leader in officially licensed collectibles and is the most significant publisher of collectibles in the U.S., with official licenses for NFL, NFLPA, NBA, NBPA, NASCAR, FIFA, UFC, WWE, College, Disney and other key properties from many other licensors. Panini is also the exclusive trading card and sticker partner of the Pro Football Hall of Fame, Naismith Memorial Basketball Hall of Fame, Elite 11 and Pop Warner Little Scholars, Inc.
Panini has distribution channels in more than 150 countries and employs a staff of over 1,200. For more information visit us at www.paniniamerica.net, www.paninigroup.com or
http://blog.paniniamerica.net/. You can also follow Panini America on social media platforms Facebook, Twitter, YouTube and Instagram.
# # #