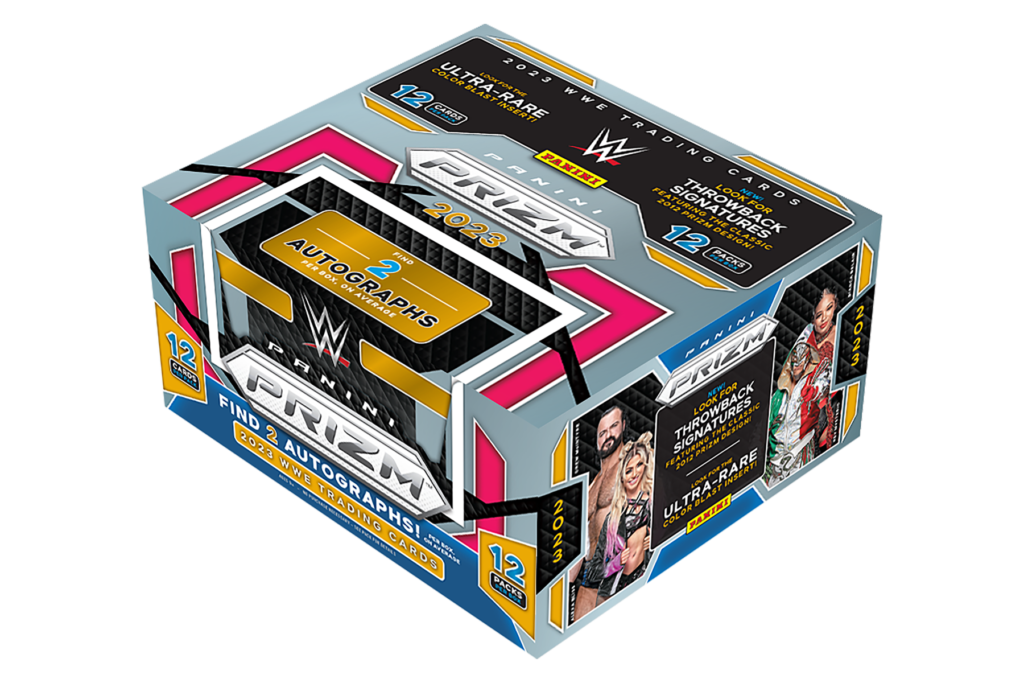 RELEASE DATE:  Friday, April 7th at 11am (CST) at the Panini Direct Store
PIS DOCUMENT:  23_Prizm_WWE_PIS_Hobby
DETAILS:   The debut edition of Prizm WWE was a massive success in the Hobby, and we think the sophomore release is going to be huge! Imagine a Color Blast insert of The Rock! Well, that's the sort of fire 2023 Prizm WWE is bringing with it! In addition to the low numbered parallels that we all love to chase, this release includes some Hobby-favorite SSP inserts like Color Blast and Throwback Signatures. If you're a wresting card collector, or maybe you're just a wrestling fan, and even if you're just a sports card collector in general – this product is going to bring you joy! Catch more details below, as well as a robust gallery of scans from the product.
PRODUCT BREAKDOWN:
Hobby boxes of 2023 Panini Prizm WWE Trading Cards contain 12 cards per pack and 12 packs per box!
Look for two autographs, 22 parallels, and 12 inserts per box, on average!
Find Hobby-exclusive Prizm parallels numbered to as low as 1/1!
New in 2023 – Prizm WWE includes Throwback Signatures featuring the top superstars of yesterday and today on the iconic 2012 Prizm design!
Chase the ultra-rare Color Blast insert!
*All information is accurate at the time of posting – content is subject to change.
SHOP THIS PRODUCT:   CLICK HERE
VISIT: http://www.PaniniAmerica.net
Also connect with us on:
Discord:  https://discord.com/invite/9PUgPHSdxq
Instagram: https://www.instagram.com/PaniniAmerica/
Twitter:  https://twitter.com/PaniniAmerica/
Facebook:  https://www.facebook.com/PaniniAmerica/