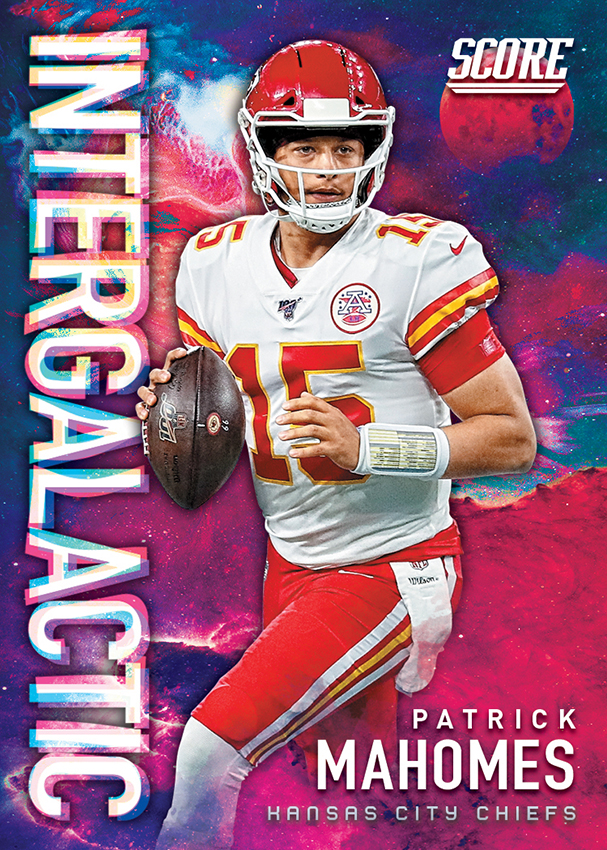 Panini America officials recently sent out preliminary Product Information Solicitations for several exciting new products coming soon enough to a hobby shop or online retailer near you and, over the course of the next few days, we're sharing that same information with you here on The Knight's Lance, this time featuring the landmark, 2020 edition of Score Football, a rite-of-passage kind of product as much a part of the NFL as the football itself.
In the extensive product preview that follows, we'll showcase a must-see bevy of preliminary images from 2020 Score Football as well as the product's PIS documents for the hobby and various retail versions. Enjoy the sneak peek and stay tuned for additional details.
Release Date: April 22, 2020
Product Configuration: 40 cards per pack, 10 packs per box, 12 boxes per case.
BOX BREAK: Four autographs, 90 Rookie Cards, 10 parallels, 36 inserts and 260 base cards per hobby box, on average.
A staple of the trading card industry for decades, Score Football continues to bring a classic look and immense checklist that are sure to be collector favorites once again this season.
Loaded with inserts both new and classic, there is something for all collectors in every pack of 2020 Score Football.
Look for the hobby-exclusive and ultra-rare Intergalactic case-hit insert.
Chase the biggest set of 2020 featuring 440 cards, including 330 base cards and 110 rookies.
Look for one of the first officially licensed Rookie Cards and rookie autograph cards from all of the top prospects from the 2020 NFL Draft.
For the first time in years, Larry Fitzgerald autographs return to the hobby.
Enjoy the preview gallery that follows and stay tuned for additional information. PLEASE NOTE THAT THE 2019 ROOKIES FEATURED IN THE PREVIEW GALLERY BELOW ARE MERELY TO SHOW COLLECTORS WHAT SCORE'S VARIOUS ROOKIE DESIGNS WILL LOOK LIKE.
The PIS document for 2020 Score Football Hobby is available here.
The PIS document for 2020 Score Football Hobby Hybrid is available here.
The PIS document for 2020 Score Football Excell Retail is available here.
The PIS document for 2020 Score Football NPP Retail is available here.
All information is accurate at the time of posting – content is subject to change and approval. Card images are solely for the purpose of design display. Actual images used on cards to be determined.