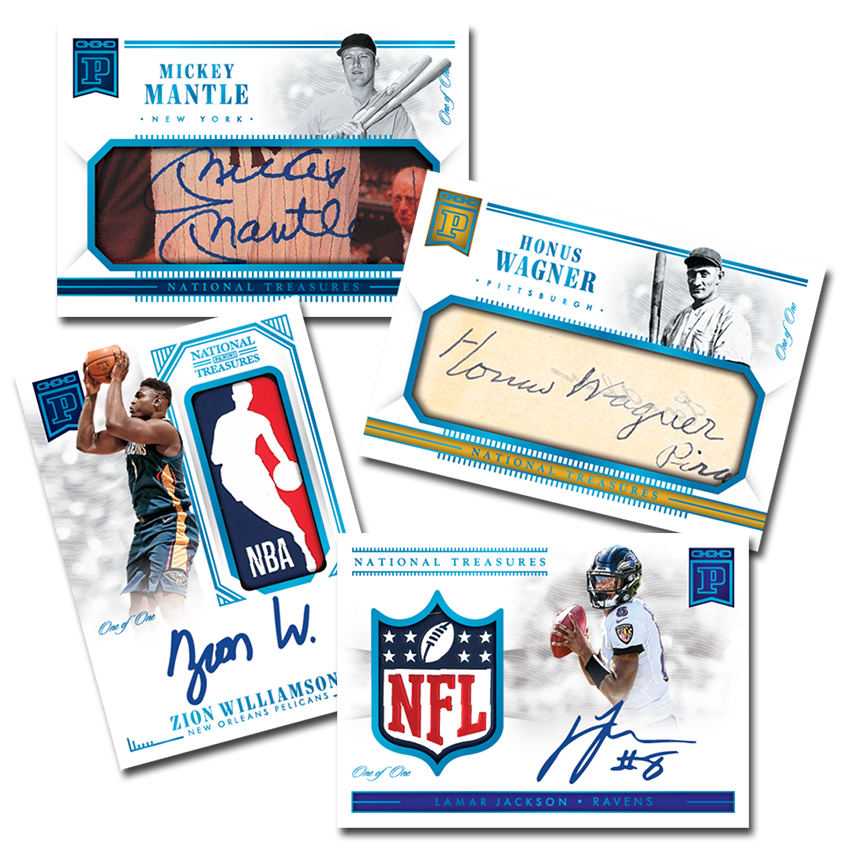 Panini America, the world's largest licensed sports and entertainment collectibles company and the exclusive trading card manufacturer of the NFL, NFLPA, NBA, NBPA, College athletics and NASCAR, announced today that it will introduce the first officially licensed trading cards featuring blockchain technology.  The release of the blockchain trading cards will incorporate Panini's popular National Treasures design and will feature 100 athletes including Honus Wagner, Mickey Mantle, Aaron Judge, Shohei Ohtani, Mariano Rivera, Kobe Bryant, Zion Williamson, Charles Barkley, Stephen Curry, Allen Iverson, Shaquille O'Neal, Giannis Antetokounmpo, Patrick Mahomes, Tom Brady, Lamar Jackson, Drew Brees, Barry Sanders, Peyton Manning, Emmitt Smith, Christian Pulisic, Neymar, Diego Maradona, Gareth Bale and Kaapo Kakko to name a few.
"We were very thorough and a number of factors were considered in selecting the players that will be released in our Panini trading cards that utilize blockchain technology," said Mark Warsop, CEO of Panini America. "There is not a more iconic trading card than the rare 1909-11 Honus Wagner T206 baseball card. To be able to produce the first ever Honus Wagner blockchain card, along with all of these other players utilizing blockchain technology and ensuring that these cards will now live forever in the digital realm, is truly an honor."
Panini's blockchain trading cards will launch in early January 2020 and will be sold in an auction format in U.S. dollars as opposed to a digital currency. Ten new cards will be released each week. The blockchain asset will live on a closed Panini platform where sports fans and collectors can buy, sell and store their blockchain trading card assets. Each card is a unique one-of-one card that not only includes a blockchain digital asset – but will be accompanied by a physical version of the card that includes an autograph of the respective player. In some cases, the physical card also will include a piece of memorabilia. The blockchain asset will be an exact representation of the physical version of the card.
Panini also plans to release blockchain versions of cards in upcoming Panini physical trading card products in the NFL, NBA and MLBPA. With some cards selling on the secondary market for six figures, and as the popularity of trading cards continues to grow in the global marketplace, the blockchain technology also ensures another level of authentication for Panini's products and high-value cards.
"We have spent years researching and exploring the best possible way to incorporate blockchain into our trading cards as another level of authentication – as well as the best way to introduce blockchain to sports fans and collectors," Warsop said. "We believe our platform and the fact that the cards will be sold in U.S. dollars rather than a digital currency will help fans and collectors have a better understanding, knowing that their cards utilize blockchain as another level of authenticity."