ROSEMONT, Ill. -- It shouldn't be this simple. But for one lucky Panini America collector late Friday morning, it was.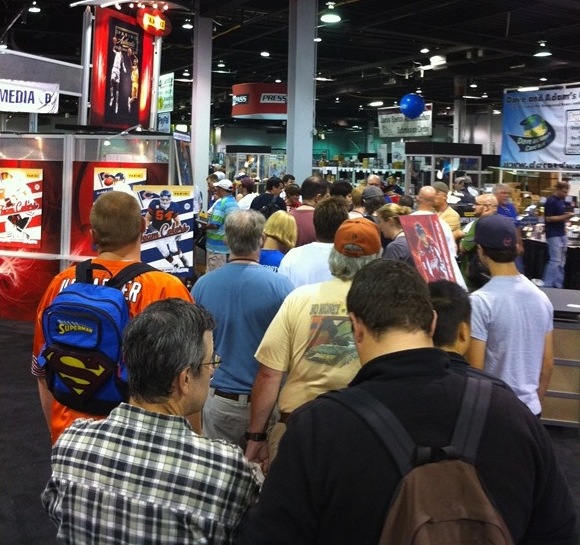 Chicago-based freelance writer Dan Campana contributed to this report and will file updates and images to The Knight's Lance throughout the week. 
ROSEMONT, Ill. — It shouldn't be this simple. But for one lucky Panini America collector late Friday morning, it was.
Chicago-area hobbyist Dan Piehl walked up to Panini America's Tracy Hackler innocently enough. He just wanted to say hello, shake a hand and talk about the hobby.
Minutes later, Piehl joined Hackler and Scott Prusha for a special episode of Panini Unwrapped at the Panini America booth on the floor of the 32nd Annual National Sports Collectors Convention.
Oh, and they were breaking none other than 2010-11 National Treasures Basketball — and Piehl walked away with the goods, including autographs and jersey cards from Dolph Schayes, Connie Hawkins, George Gervin and Kobe Bryant.
"People really do win," Hackler said as the trio cracked into a pair of boxes.
In the bigger scheme of things, the Panini America crew truly has enjoyed its visit to the 2011 National, which has been busy since the doors opened on Wednesday but especially so on Friday — when the line to participate in the company's popular wrapper-redemption program stretched beyond the cavernous boundaries of the corporate booth.
"The whole show, for us, is so important, so vital, because we get to interact with the people who support us all year long," Hackler said.
The feeling is mutual. Not only were collectors ripping mass quantities of basketball, football and hockey all around Panini's booth, they were also complimenting Panini America's innovation and ability to cater to all types of collectors.
On one side of the table, collectors talked up how they appreciated the company's stepped-up approach to retail products by including autographs in boxes. On the other side, a father-son duo complimented Panini America for continuing to improve the high-end National Treasures Football product.
But don't take our word for it. Stop by the company's energy-filled booth this weekend for wrapper redemptions and box wars to see for yourself. You never know what you might walk away with.
Right now, though, you can walk away with the following video and gallery showcasing just some of Friday's highlights.