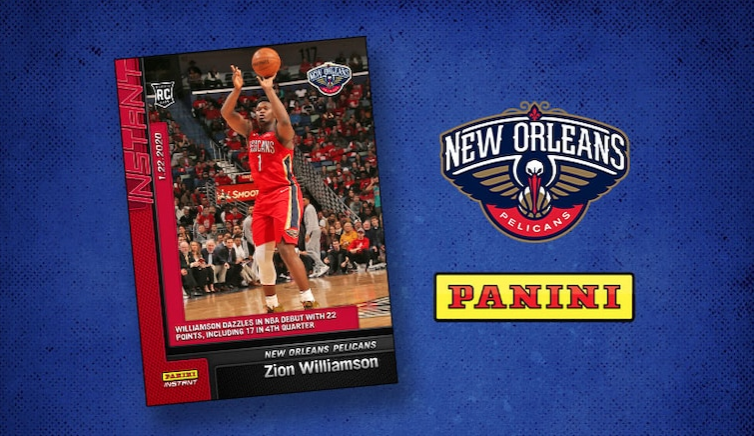 NEW ORLEANS – Panini America, the world's largest licensed sports and entertainment collectibles company and the exclusive trading card manufacturer of the NBA, NBA Players and college basketball, announced today an exclusive multi-year partnership with the NBA's New Orleans Pelicans that will feature real-time trading cards of the team's biggest performances as well as in-arena activations and giveaways. In addition, Panini will be part of an integrated "Rookie Spotlight" content series that profiles the Pelicans top rookies and their journey through their rookie season in New Orleans — including Zion Williamson, Jaxson Hayes, Josh Gray, Nickeil Alexander-Walker, Zylan Cheatham and Nicolò Melli.
The exclusive partnership was announced today and the first Panini Instant card honors last night's NBA debut of rookie sensation Zion Williamson, whom Panini America signed to an exclusive autograph trading card agreement last summer.
The Williamson card will be available to order until Monday and is the first of many special Pelicans cards that will be available through the Panini Instant platform during the 2019-20 NBA season celebrating key Pelicans performances. The Pelicans also will be featured in all of Panini America's exclusively licensed NBA trading card products and in the company's NBA Dunk Digital Trading Card App – where fans can collect and interact with digital trading cards in various in-app events.
"The New Orleans Pelicans are one of the most exciting young teams in the league and we're proud to be able to partner with them in such a meaningful way," said Jason Howarth, Panini America Vice President of Marketing. "The team has dynamic playmakers up and down the roster and nothing intrigues fans and collectors quite like superstar potential and a team that's on the rise. Both of those perfectly summarize the Pelicans and will be another way for us to engage with fans with our trading cards."
"We are always looking for innovative ways to enhance the overall experience for our fans," said New Orleans Pelicans Senior Vice President of Sales Michael Stanfield. "We strive to be at the forefront of innovation and we are excited to be teaming up with the world's largest sports and entertainment collectibles company in a way that will help create a product that can appeal to a worldwide audience."