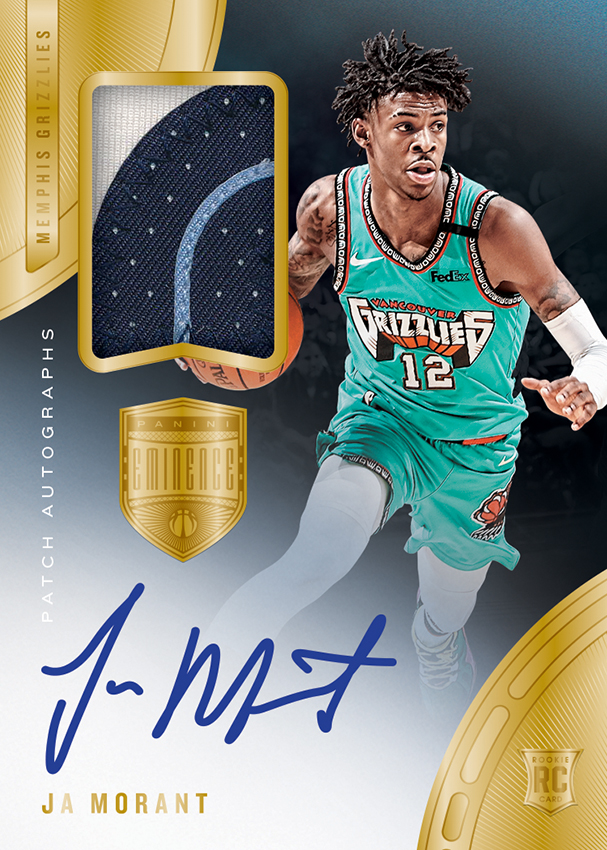 Once again, Eminence is imminent. The most extravagant, highest-of-high-end products in Panini America's vast portfolio is making a comeback. For the first time since the 2014-15 product season, hoops collectors will have an Eminence Basketball to collect — and its one that pays tribute to the blazing-hot 2019 NBA Draft Class as well as the NBA's biggest superstars and legends.
On average, each hobby box of 2019-20 Eminence Basketball (10 cards per box, one box per case) will deliver nine autographs and one additional card. The estimated release date for the product is December 23. The product highlights are many and include . . .
Every card in Eminence is numbered to 10 or less and comes in a magnetic holder. All autograph cards are signed on-card and every piece of memorabilia is game-worn.
Look for a deep lineup of autograph content in Eminence. Find autographs of Zion Williamson, Ja Morant, RJ Barrett, Rui Hachimura, Stephen Curry, Giannis Antetokounmpo, Bill Russell, Charles Barkley and more. Look for several unique dual autograph combinations as well.
Find cards with a Silver, Gold or Platinum bar embedded. Look for ultra-rare autographed versions. Also look for Diamond-embedded cards.
Look for USA Basketball Dual Autograph cards featuring some of the top names in basketball.
Enjoy the preview gallery that follows and stay tuned for additional information on 2019-20 Eminence Basketball.
The PIS document for 2019-20 Eminence Basketball is available here.
All information is accurate at the time of posting – content is subject to change and approval. Card images are solely for the purpose of design display. Actual images used on cards to be determined.