Basketball Hall of Famer Makes His Return To The Trading Card Category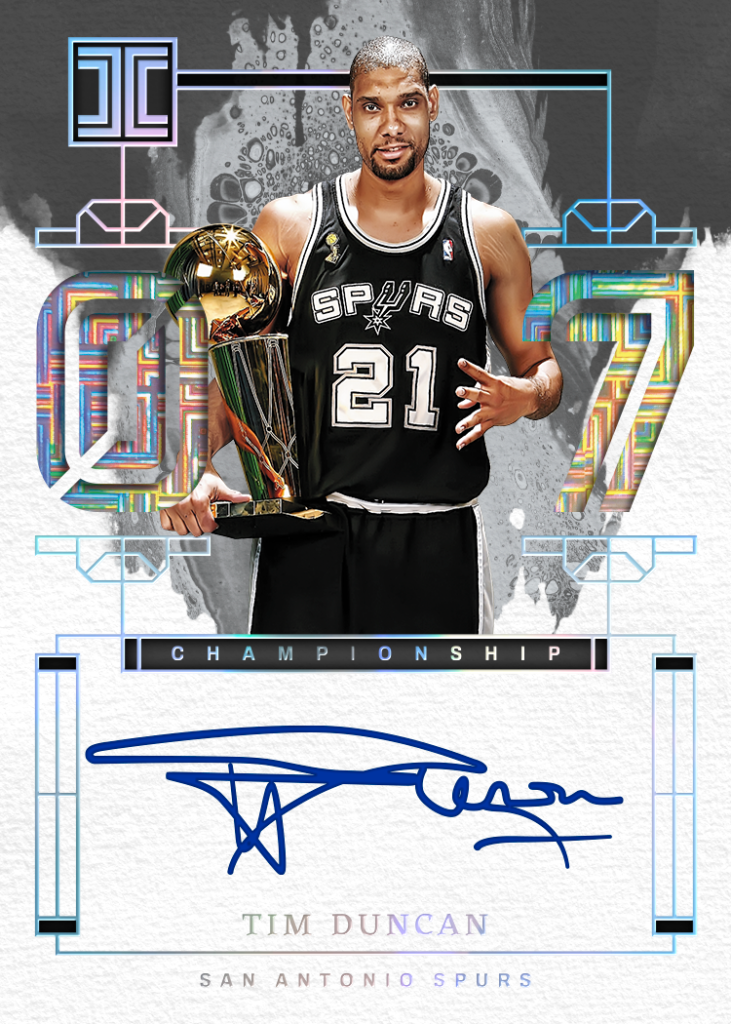 Irving, TX – October 19, 2023 – Panini America, the world's largest sports and entertainment collectibles company, has announced an exclusive partnership with San Antonio Spurs' legend Tim Duncan for autographed trading cards.
The multi-year agreement marks the first time in nearly two decades that new Duncan autographed cards will be offered in the trading card category.  Panini's initial product featuring Duncan is expected to be available in February of 2024. Duncan's first autograph's will appear in Panini's 2023-24 Crown Royale product in February followed by 2023-24 Impeccable basketball.
"It's been years since I've had an autographed trading card. I felt it was time to return to the industry so fans could get the chance to get cards with my signature," said Tim Duncan, Naismith Basketball Hall of Famer and San Antonio Spurs Legend.  "Trading cards have come a long way since I last signed them. Panini America has developed some really cool cards and brands while taking the popularity of NBA trading cards to a whole new level, so it made sense to partner with them."
Duncan joins the likes of Luka Doncic, Charles Barkley, David Beckham, Christian Pulisic and Kylian Mbappe, among others, as Panini exclusive athletes.
"Tim Duncan is one of the greatest players that the game of basketball has ever seen and is a natural fit to join our Panini family," said Jason Howarth, Senior Vice President of Marketing and Athlete Relations for Panini America. "We are proud to be partnering with him on his new autographed cards and are even more excited to bring such an iconic star back into the trading card world for basketball fans everywhere."
Duncan was a 10-time All-NBA First Team selection, and a two-time NBA Most Valuable Player. During his career, the Spurs won five NBA Championships, with Duncan being named the NBA Finals MVP three times. He entered the Naismith Basketball Hall of Fame in 2020, and was named to the NBA 75th Anniversary Team in 2021.
About Panini America
Panini America is a subsidiary of The Panini Group, established over 60 years ago in Modena, Italy with subsidiaries throughout Europe, Latin America and the United States. Panini is the world leader in officially licensed collectibles and is the most significant publisher of collectibles in the U.S., with official licenses for NFL, NFLPA, NBA, NBPA, NASCAR, FIFA, UFC, WWE, College, Disney and other key properties from many other licensors. Panini is also the exclusive trading card and sticker partner of the Pro Football Hall of Fame, Naismith Memorial Basketball Hall of Fame, Elite 11 and Pop Warner Little Scholars, Inc.
Panini has distribution channels in more than 150 countries and employs a staff of over 1,200. For more information visit us at www.paniniamerica.net, www.paninigroup.com or
http://blog.paniniamerica.net/. You can also follow Panini America on social media platforms Facebook, Twitter, YouTube and Instagram.
# # #
CONTACTS:
Holden Hill, Taylor Strategy