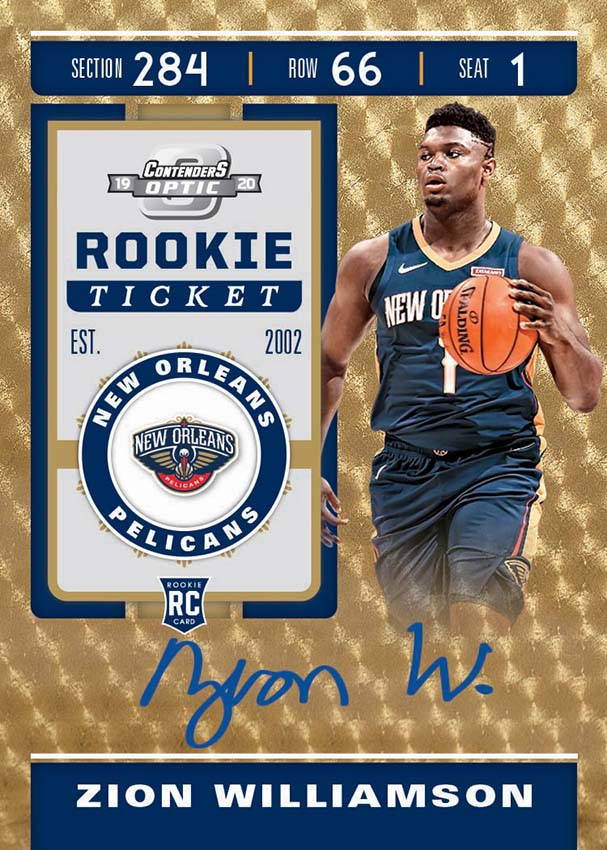 Here's one surefire way you know that collector anticipation for Panini America's upcoming 2019-20 Contenders Optic Basketball is even higher than it has been for most of this season's other new releases (which is quite telling considering anticipation for just about every product has been off the charts): An Instagram post from a few weeks back offering a pre-ink peek at some key cards in the set currently ranks as the fourth most-liked Panini America post of the last two years.
Indeed, the savory combination of this rookie class and the wildly popular Contenders Optic franchise is a recipe for a smashing success when the product arrives in late August.
Earlier this week, company officials sent out the preliminary Product Information Solicitation for 2019-20 Contenders Optic Basketball and today we're sharing that same information with you.
In the extensive product preview that follows, we showcase a must-see bevy of preliminary images from the product as well as the product's PIS documents for both hobby and T-Mall versions. Enjoy the sneak peek and stay tuned for additional details.
Release Date: August 26, 2020
Product Configuration: Six cards per box, 20 boxes per case.
BOX BREAK: One autograph and four inserts or parallels per hobby box, on average.
2019-20 Contenders Optic Basketball returns with a stellar lineup of autographs, inserts and parallels.
Find Rookie Season Ticket Autograph cards in a variety of vibrant parallels, including the elusive Gold Vinyl 1/1 parallels.
Contenders Optic Basketball delivers an incredible lineup of inserts and parallels including new inserts Uniformity, Historic Picks, Historic Slams, and All-Star Aspirations.
1982 Tribute Autographs and Veteran Tickets feature some of the best names across the league, old and new, with on-card autographs. Look for parallels numbered to as low as one.
Find the popular Superstars die-cut insert paralleled by Gold (numbered to 10) and Gold Vinyl 1/1 versions. 
Enjoy the preview gallery that follows and stay tuned for additional information.
The PIS document for 2019-20 Contenders Optic Basketball Hobby is available here.
The PIS document for 2019-20 Contenders Optic Basketball T-Mall is available here.
All information is accurate at the time of posting – content is subject to change and approval. Card images are solely for the purpose of design display. Actual images used on cards to be determined.