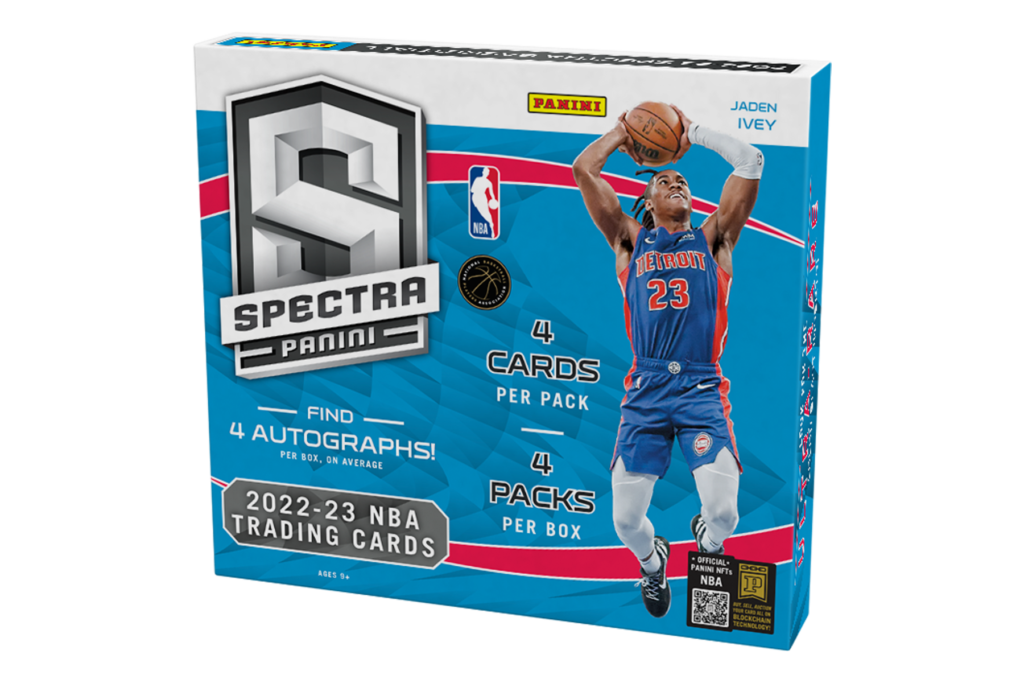 Basketball is a game dominated by space and air. Floaters seem to touch the moon before falling through the basket. The game's high fliers launch off the hardwood and defy gravity to either rock the rim or send an opponent's shot into orbit. The top long-distance shooters' shot charts look like a collection of shooting stars. Some players put on performances that make them seem like they aren't from this planet.
So, whether it's a boost to your adrenaline while opening packs or a sense of joy from adding special cards from today's stars, yesterday's legends or the faces of tomorrow's game, Panini's Spectra Basketball 2022-23 collection is here to help rocket your experience to new heights.
As your collections lifts off, you'll find that autographs reign supreme. Paolo Banchero, Jabari Smith, Chet Holmgren, Keegan Murray, Jaden Ivey and Bennedict Mathurin feature on Rookie Dual-Patch Auto cards.
On-card autos are prevalent throughout, from both current players as well as hoop legends.
Luka Dončić , Stephen Curry, Anthony Edwards and Nikola Jokić are some of the astronomical talents you can expect to find. Pillars of previous eras, like Kevin Garnett, Rasheed Wallace, Paul Pierce, John Stockton and Charles Barkley, also have auto cards.
There are also the ultra-rare Nebula Logoman Rookie Auto cards, the first ones for the newcomers.
Search for new autograph inserts that include Colorgraphs, Sky High Signatures and Deep Space Signatures. Colorgraphs features highly sought-after on-card autographs.
Per usual, the Celestial, Interstellar, Astral, Meta, Gold Universal Die-Cut, Marble and Nebula parallels are all numbered.
The base set features a wide variety of parallels, including two new additions for this collection: Menagerie and Psychedelic.
The 245-card base set features 150 players, 50 rookies and 45 rookie jersey autograph cards.
Reach heights you wouldn't have imagined and add out-of-this-world cards to your collection with 2022-23 Panini Spectra Basketball.