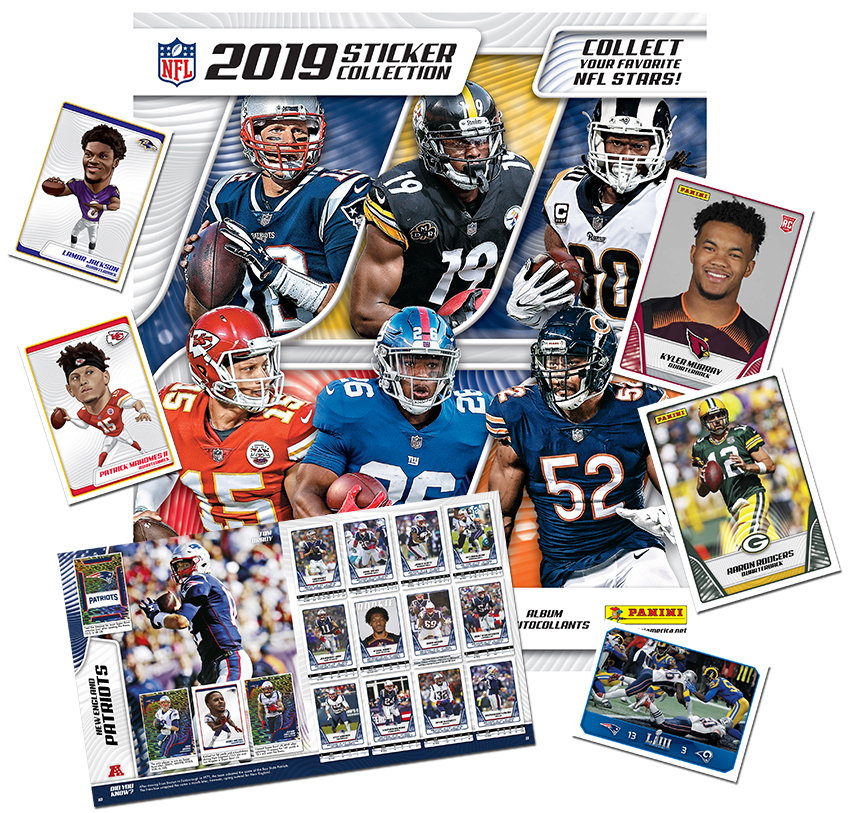 Week 3 of the 2019 NFL season kicks off tonight when the Jacksonville Jaguars host the Tennessee Titans and if it hasn't been abundantly obvious to you during the first two weeks, the country is once again in its customary football frenzy. We do our best here at Panini America to fan the flames of that frenzy with some of the sweetest trading card products on the planet. But for the purposes of this particular post, we're going to get into something that's just a little more sticky.
Indeed, Panini America's Official 2019 NFL Sticker & Card Collection deserves its time in the promotional spotlight, too. Especially this year, when the popular annual collection has added trading cards — as well as a host of other new bells and whistles — to the mix. And if you've yet to immerse yourself in the brilliant stickiness of the product, well, get ready. You're about to.
Here's what you need to know about this year's edition:
First things first: The 2019 NFL Sticker & Card Collection features 558 stickers and, for the first time, 100 traditional trading cards (we've included a complete checklist to both the sticker collection and card collection at the end of this post).
Look for 100 special Foil Stickers as well as four different types of trading card parallels on foil stock: Silver, Blue (numbered to 299), Gold (numbered to 10) and Black 1/1.
Each of the NFL's 32 teams is featured on its own spread of two color pages in the Album.
New for 2019, each Team Spread in the Album includes 16 stickers (up from 13 in past editions).
Also new for 2019 are the fun Player Illustration stickers (one per team) highlighting the stars of the NFL as you've rarely seen them.
Individual pages highlighting the 2018 NFL Playoffs, Super Bowl LIII, the 2019 NFL Draft and the Pro Football Hall of Fame Class of 2019.
Each sticker packet includes five stickers and one trading card. In addition, each album includes a DIY box to store your trading cards.
The 100-card set includes 68 veteran players and 32 rookies.
The product is available now at Target, Walmart and at iCollectPanini.com.
Enjoy the gallery that follows and stay tuned for additional information. As mentioned above, you can access the complete checklist here.