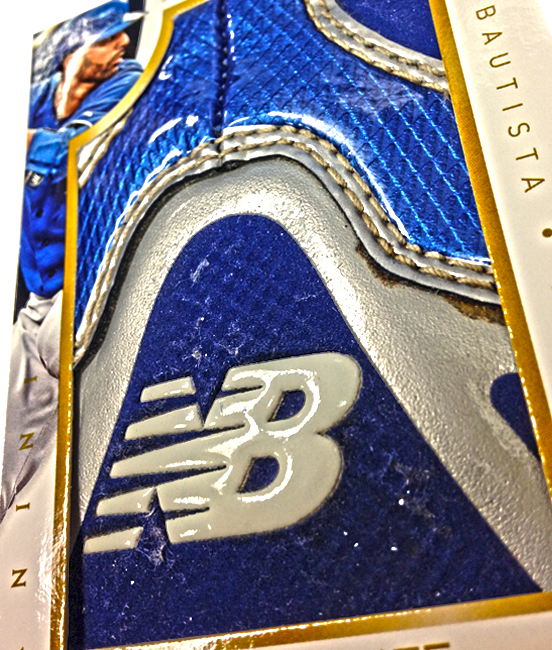 Post originally published September 18, 2014
It's almost impossible to step your game up without the right footwear — which is why Panini America officials went about acquiring only the best for the revolutionary Jumbo Cleats insert coming to next week's release of 2014 Immaculate Baseball. Consider the game stepped up in a major way with an Immaculate release that looks to emphatically stomp its footprint across the baseball card category.
Individually and collectively, the game-worn cleats acquired and incorporated into the Jumbo Cleats insert represent a spectacular piece of baseball — and baseball card — history. They toed the hot corner with Hall of Fame prowess in Philadelphia (Mike Schmidt). They took the batter's box with the sweetest-swinging slugger San Diego's ever known (Tony Gwynn). They were afoot for one of the greatest careers in Houston baseball history (Craig Biggio). They made the massive cleat marks of Boston's beloved Big Papi (David Ortiz). They dug in as a bearded batsman made headlines north of the border (Jose Bautista). They helped the future shine bright in Atlanta (Freddie Freeman).
And now that they've been de-cleated, they'll come together in a Jumbo Cleats insert that features what is believed to be the most extensive use of game-worn baseball shoes in trading card history. Every card in the set (four cards of each player) is hand-numbered "1/1" with the exception of Schmidt's, which include two Nike logos numbered to two and two shoe tags numbered to two.
Making the Jumbo Cleats concept even cooler? The back of each card features a photo of each pair of shoes in their intact state. You can check out every card in the set in the must-see gallery that follows. Stay tuned to The Knight's Lance for additional coverage of 2014 Immaculate Baseball in the days leading up to next Wednesday's release.