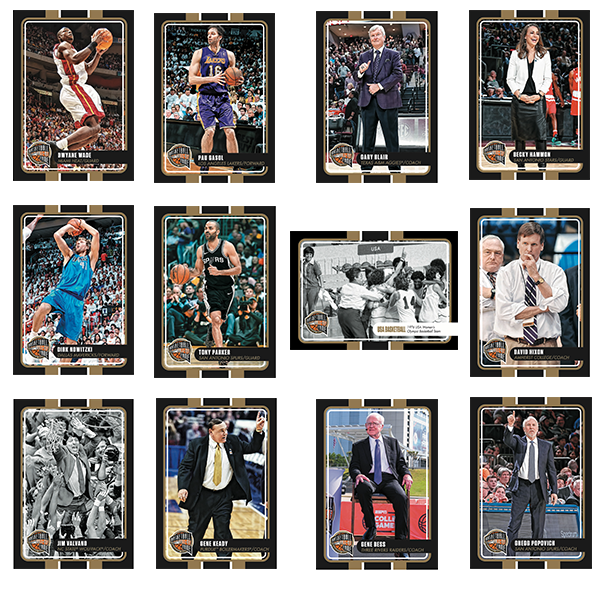 Over the weekend, the Naismith Memorial Basketball Hall of Fame got a little bigger. The class of 2023 was officially enshrined, cementing its place in hoops history. Continuing a long-running partnership, Panini America was there to help celebrate and to authenticate some autographs as well.
The weekend was full of parties, signing sessions and plenty of speeches. There were a dozen new selections for the Springfield museum: 11 individuals and one team.
Cemented in history 🏀

Congratulations to the Basketball Hall of Fame Class of 2023!#23HoopClass @Hoophall#WhoDoYouCollect pic.twitter.com/h1GssfBtE6

— Panini America (@PaniniAmerica) August 12, 2023
There were a few overlapping themes among many of the inductees: the state of Texas, the continent of Europe and the history of women's basketball. Four honorees had ties to the San Antonio Spurs, another played his entire career in Dallas, and three players joined the NBA from across the pond. The other inductees can be grouped into specific tiers as well.
Let's run through the complete list of selections and give each their due diligence. (Due diligence meaning two paragraphs each, of course.) Let's kick this off with that aforementioned European flair.
Euro-steppers
You can't single out one headliner from the three European legends who earned their spot in the Hall of Fame this year: Pau Gasol, Dirk Nowitzki and Tony Parker.
It was when the 1992 Summer Games were held in his hometown of Barcelona that Gasol fell in love with hoops. "I was 12. It changed my life. The [U.S.] team showed us how basketball could be played," he said during his enshrinement speech.
That youngster grew to 7 feet and headed to the States as the No. 3 pick in the 2001 draft. Across 18 years and five NBA teams, the six-time All-Star totaled over 20,000 points and won a pair of championships.
Dirk Nowitzki was presented into the Hall of Fame by Jason Kidd and Steve Nash, two guards who fed the big man through plenty of assists. Those playmakers and anyone else who dished to Nowitzki in the post cashed in on an easy helper. The power forward turned passes into points with a legendarily smooth shot.
His net-swishing play did more than help teammates pad their stats. Over 21 seasons, all of which came in Dallas, the German great racked up 31,560 points and contributed to a multitude of winning teams. Reaching his peak in 2011, he helped guide the Mavericks to their first NBA championship.
You can't forget Tony Parker — even if NBA teams snoozed on him in the 2001 draft. The Frenchman slid all the way to the 28th pick, where the Spurs, who were fresh off a 58-win season, eagerly awaited.
His dynamic play as a facilitator, scorer and defender helped San Antonio go from contender to dynasty. His four championship rings are complemented by six All-Star nods and four All-NBA selections.
All three of these legends earned their spot in Springfield not just because of their NBA work, but what they did overseas as well.
College coaches named Gene (and one named David)
Gene Bess is yet another example that the Basketball Hall of Fame is not only for NBA alum. In fact, he might be the most accomplished head coach in basketball history, including guys who have drawn up plays at the top level.
For parts of seven decades, Bess served as head coach at Three Rivers College, a JUCO in Poplar Bluff, Missouri. There, he racked up a pair of national championships and 1,300 total victories, making him the winningest coach in college basketball history.
Next to Bess in the Gene Hall of Fame is Mr. Keady, who spent the majority of his career leading the Purdue Boilermakers. Over 25 seasons in West Lafayette, he guided his teams to six Big Ten championships. His 493 conference wins rank second only to fellow Hall of Famer Bob Knight.
Known for his energy on the sidelines and intensity in the locker room, Keady molded smart squads that were always in position for victory. "Gene's teams, you knew were not going to beat themselves," said Michigan State skipper Tom Izzo.
After four seasons as a player, David Hixon was hired as head coach at Amherst College. He was just 24 at the time. Decades later, as a 70-year-old, he earned a spot in the Hall of Fame.
The legendary coach never left Amherst, a Division III school that's about 90 miles west of Boston, and compiled quite the résumé. He guided his Mammoths to over 800 wins, eight conference championships, seven Final Four appearances and a pair of national titles. "My story is a 50-year love affair with a school and sport," said Hixon.
The San Antonio crew
At times, the weekend felt less like a Hall of Fame induction and more of a celebration of the Spurs' dynasty. We've already gone over franchise legend Tony Parker and Pau Gasol, who spent his twilight days in Southern Texas.
The mastermind who coached Parker and Gasol, as well as other Hall of Famers like Tim Duncan and David Robinson, also earned his jacket. That, of course, is Gregg Popovich, who many consider the greatest coach in league history.
He took over as head man in 1996-97 and quickly shook off a 17-47 record in his debut campaign. By his third season, he was popping champagne and getting fitted for a ring — the first of five so far. Perhaps most impressive: he's not done. Popovich took a break from drawing up plays for Victor Wembanyama and the rest of the 2023-24 Spurs to celebrate his Hall of Fame induction.
The final Spurs connection comes from Becky Hammon, who was also inducted while still in the middle of a coaching career. Her Xs and Os are only part of the reason she took a spot in the Hall. Her playing days were just as integral to her nod.
After a memorable career at Colorado State, she spent 16 seasons in the WNBA, where she earned six All-Star appearances and was selected to the W25 (the league's 25 greatest players through 25 seasons). Since then, she's become the first full-time female assistant coach in NBA history, then returned to the WNBA and coached the Aces to the 2022 championship.
One of one 👏

Congrats to #23HoopClass inductee, @BeckyHammon 🧡 pic.twitter.com/OnlOqPhDXl

— WNBA (@WNBA) August 13, 2023
More women's hoops legends
As mentioned some 700 words ago, the class of 2023 didn't just feature individuals. An entire team was inducted into the Hall of Fame, and rightfully so.
The 1976 Summer Games were the first to include women's hoops, and the U.S. team proved it belonged. Coached by Billie Moore, the ground-breaking squad set the foundation for a new era of female basketball by taking home the silver medal.
Speaking of women's basketball, one of its most respected coaches took his spot in Springfield in 2023. Gary Blair has nearly 40 years of experience coaching Division I hoops.
Most notably, the Dallas native has guided a pair of teams to the Final Four: Arkansas in 1998 and Texas A&M in 2011. It was with those Aggies that he drew up the plans that ended in a national championship.
Last, but not least, legends
OK, these last two kind of mess with the theme here, as they don't really fit into any of the above tiers, but they are both well-known legends, so they deserve their own tier regardless.
Dwyane Wade, part of the iconic 2003 draft class, was one of the headliners of this Hall of Fame group. The guard wowed with his electric play and redefined what a player of his stature could do on defense (he holds the NBA record for most blocks by a player 6-foot-4 or shorter).
On his way to becoming Miami's all-time leader in games and points, he won three championships and took home the 2008-09 scoring title.
Finally, we get to talk about Jim Valvano. If you're like me, then you're probably surprised the NC State legend wasn't already in the Hall of Fame. While his induction might be overdue, it's better late than never.
Valvano engineered one of the greatest runs in the history of the NCAA Tournament. The Wolfpack started the 1983 event as a No. 6 seed, and under their leader's tinkering, cruised through the competition until they took down Houston in the final. His legacy goes beyond the hardwood, and the V Foundation has funded over $150 million in cancer research grants.
The stars were out for last night's NBRPA x Hall of Fame Players Party presented by Panini ✨ #23HoopClass pic.twitter.com/6YGgLYWXk7

— NBA Alumni 🏀 (@NBAalumni) August 12, 2023