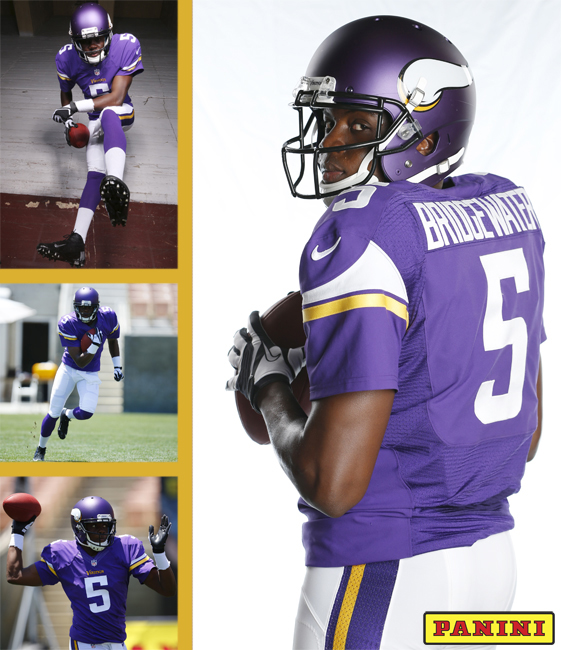 Later this afternoon, Minnesota Vikings rookie quarterback Teddy Bridgewater will make his first NFL start, which makes Minnesota's home game against the Atlanta Falcons something of a must-see affair for the countless collectors who made Bridgewater their MCRC (Most Coveted Rookie Card) not long after the Vikings selected him with the last pick of the first round in May's 2014 NFL Draft.
Long before he signed with the Vikings, though, Bridgewater signed with Panini America. In fact, his first NFL trading card deal was with Panini America. In the more than five months since, we've interacted with Bridgewater on draft night, at the 2014 NFLPA Rookie Premiere and on the Panini America #WhoDoYouCollect campaign. Today, Bridgewater takes center stage in our continuing NFLPA Rookie Premiere Recall series that aims to bring fans and collectors closer to Bridgewater and his best cards.
Earlier this month, Bridgewater's 2014 Panini America National VIP Autograph 1/1 sold for a staggering $1,000, his highest-selling card to date. Just two days earlier, his Panini America National VIP Autograph numbered to five sold for $325. And just this week, a Bridgewater 2014 Rookies & Stars Autograph Patch card numbered 5/5, his jersey number, changed hands for a healthy $299.99.
The heavy investment in Bridgewater can be attributed to a spectacular three-year career at Louisville during which Bridgewater passed for more than 9,800 yards and 72 touchdowns. He was named the Big East Rookie of the Year in 2011 and the Big East Offensive Player of the Year in 2012. In the 2013 Sugar Bowl, Bridgewater earned game MVP honors by passing for 266 yards and two touchdowns en route to a 33-23 upset victory over Florida. This afternoon, Bridgewater will finally get the chance to transition his talents to the NFL gridiron in his first NFL start.
In early May, just minutes after he was drafted, and again in late May at the 2014 NFLPA Rookie Premiere, Bridgewater spent some quality time with Panini America signing autographs . . . posing for pictures . . . conducting interviews. We hope the resulting video and image gallery that follow will help you get to know Bridgewater a little bit better — just like we did.
Enjoy, and stay tuned to The Knight's Lance for another 2014 NFLPA Rookie Premiere Recall feature in the coming weeks. You can access other Rookie Premiere Recall features below:
The Panini America NFLPA Rookie Premiere Recall: Buffalo Bills WR Sammy Watkins
The Panini America NFLPA Rookie Premiere Recall: Carolina Panthers WR Kelvin Benjamin
Here's the interview . . .
And here's the must-see gallery . . .