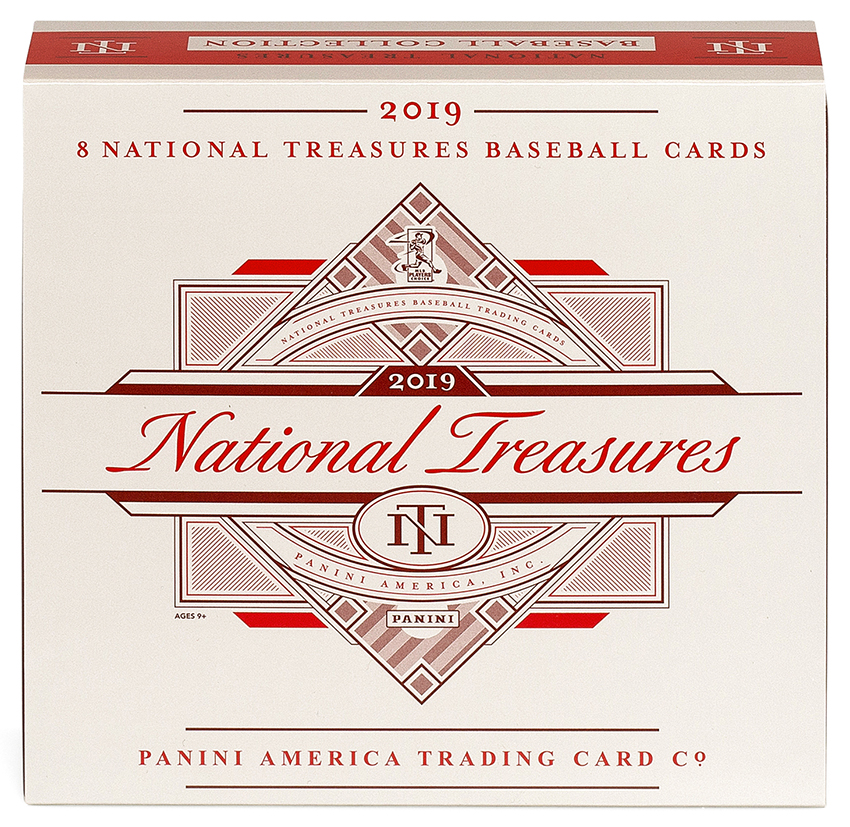 One of baseball collecting's heaviest hitters is situated majestically in the on-deck circle right now, ready to approach the plate and produce one epic hit after another. Indeed, Panini America's 2019 National Treasures Baseball arrives in hobby shops and on group-break sites across North America tomorrow with a customary out-of-the-park content mix steeped in legends, current stars and the hottest rookies.
On average, each hobby box of 2019 National Treasures Baseball (eight cards per box, four boxes per case) will deliver eight autograph or memorabilia cards including one booklet. The product highlights, as high-end hardball collectors have come to expect, are must-have hobby gold.
Those highlights include . . .
Company officials follow up last year's incredible Babe Ruth/Lou Gehrig Cut Signature Booklet by adding two new pairings for booklets in 2019: Babe Ruth/Honus Wagner and Babe Ruth/ Ty Cobb. 
On-card autographs from top rookies like Vladimir Guerrero Jr., Fernando Tatis Jr. and Eloy Jimenez in the following sets: Rookie Material Signatures, Rookie Triple Material Ink, Rookie Signature Names, Rookie Signatures, Social Signatures, Rookie Signature Jumbo Material Booklet and Six Pack Material Signatures Booklet. 
Rookie Materials Signatures features the most comprehensive on-card autographs of this year's rookies including Vladimir Guerrero Jr., Fernando Tatis Jr., Eloy Jimenez, Nick Senzel, Chris Paddack, Kyle Tucker, Brandon Lowe and more. 
The return of oversized super-prime pieces of memorabilia in Cleats, Nameplates, Bat Barrels and ID Tags.
New inserts including Shadowbox Signatures, Treasured Threads, Rookie Silhouette Threads and more.
In the must-see Quality Control Gallery that follows, we offer a scintillating preview of the product. Enjoy the sneak peek and stay tuned to The Knight's Lance for additional coverage.