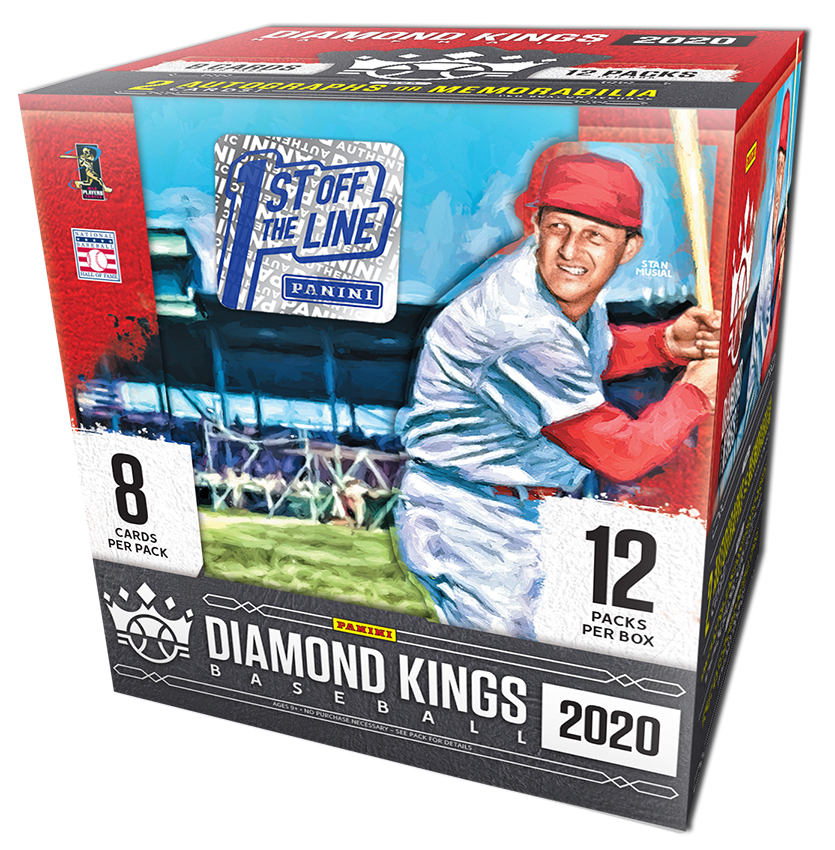 The sport of baseball always has been a work of art in Panini America's venerable and iconic Diamond Kings Baseball brand and that absolutely remains the case still today, almost 40 years after the concept was first introduced back in the early 1980s. Tomorrow morning, the limited "1st Off The Line" edition of 2020 Diamond Kings Baseball launches exclusively at the official online store of Panini America — and it promises to be another stunner.
On average, each FOTL box of 2020 Diamond Kings Baseball will deliver one FOTL-exclusive Purple Parallel Autograph numbered to 20 or less, one FOTL-exclusive Purple Material card numbered to 20 or less and one FOTL-exclusive Framed Parallel card numbered to 13. Addition highlights of the product include the first autograph memorabilia cards of the 2020 rookie class in DK Material Signatures, the history-inspired DK DeLong and DK 206 inserts, and Diamond Kings' legendary memorabilia offerings in DK Materials, Jersey Kings, Bat Kings and Diamond Cuts.
2020 Diamond Kings Baseball 1st Off The Line will be available beginning at 10 a.m. tomorrow via Dutch Auction format. Customers will be limited to 12 boxes per transaction.
We offer a comprehensive Quality Control Gallery of the 1st Off The Line edition below. Enjoy the sneak peek and stay tuned to The Knight's Lance for additional coverage.