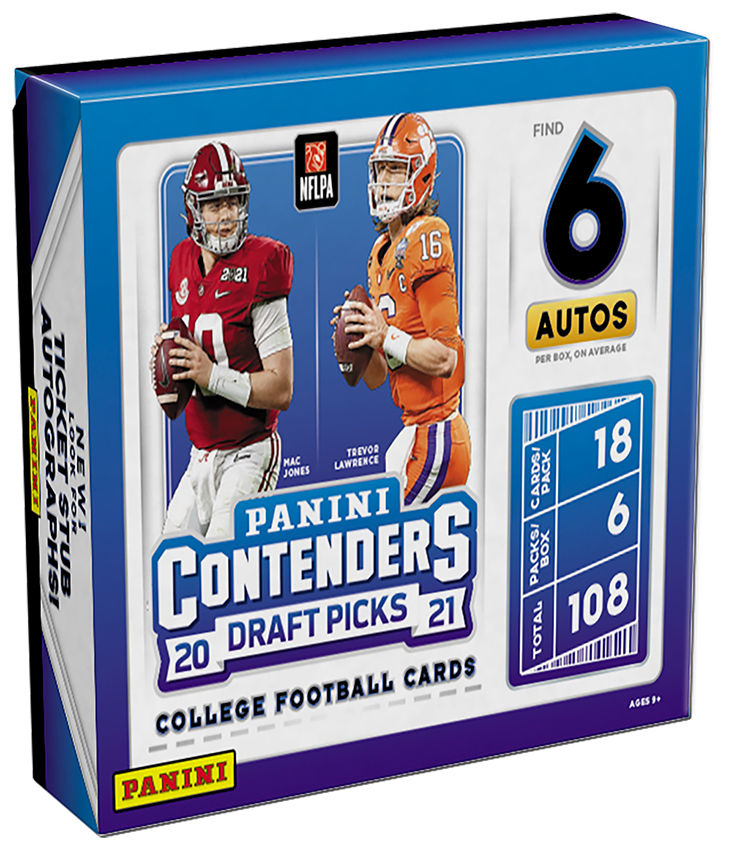 One of the most anticipated NFL rookie crops in years is ready for its collegiate closeup — and the potential-packed 2021 Contenders Draft Picks Football is more than willing to oblige. The product arrives in hobby shops across North America tomorrow with a healthy share of must-have ink from the likes of top picks Trevor Lawrence, Zach Wilson, Trey Lance and so . . . many . . . more.
Steeped in the tried-and-true collecting staples that have long defined the Contenders brand (namely the Rookie Ticket aesthetic, the scintillating parallels and the autographs), the newest collegiate iteration has as much potential as the 2021 NFL Draft Class itself. On average, each hobby (18 cards per pack, six packs per box, 12 boxes per case) will deliver six autographs, six parallels and 36 inserts.
The highlights of 2021 Contenders Draft Picks Football are many and include . . .
College Tickets are back and include the new Ticket Stub parallel.
Every hobby pack should yield one autograph, one parallel and six inserts, on average.
Chase some of the first licensed autographs of the highly coveted 2021 NFL Draft Class, including Trevor Lawreance, Trey Lance, DeVonta Smith, Ja'Marr Chase, Travis Etienne and many more.
New to Contenders Draft Picks Football this year? The one-per-case and way-cool Campus ID.
Enjoy the revealing Quality Control Gallery that follows and stay tuned for additional coverage.
2021 Contenders Draft Picks Football will be available at the official online store beginning Friday at 10 a.m. CST.