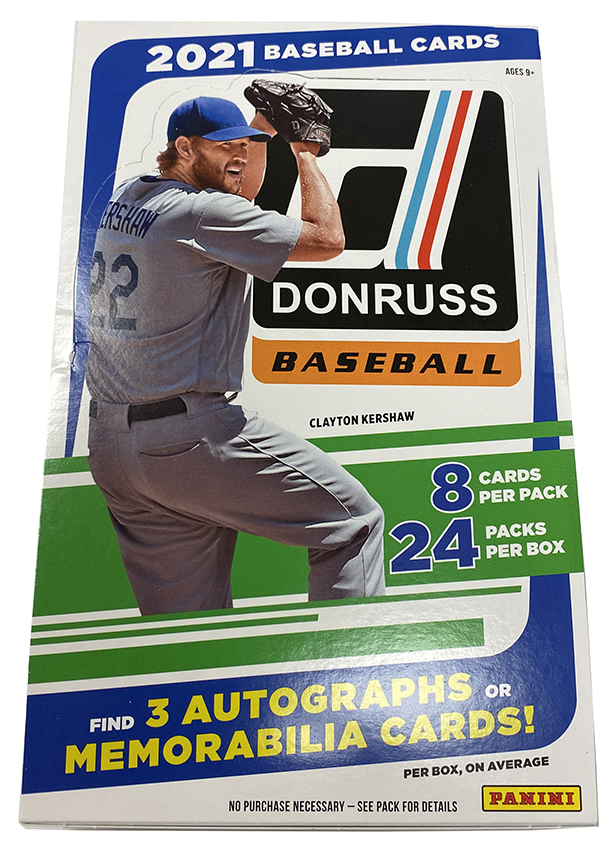 It's safe to say that the importance of tomorrow is being widely under reported in baseball circles all over the country. Tomorrow is, after all, a really big day. For many collectors, tomorrow is the day. For tomorrow, you see, is the unofficial first day of Baseball Collecting Season with the arrival of Panini America's flagship 2021 Donruss Baseball.
As you'll see in the revealing Quality Control Gallery that follows, the new-season Donruss Baseball has so much in common with all of the Donruss Baseball releases that have come before in its penchant for providing the quintessential season-opening experience. Lots of color, lots of pop, lots of fun, a vibrant base-set aesthetic and a power-packed insert roster steeped equally in nostalgia and newness.
On average, each hobby box of 2021 Donruss Baseball (eight cards per pack, 24 packs per box, 16 boxes per case) will deliver two autographs, one memorabilia card, 24 hobby-exclusive Blue parallels, four Independence Day parallels and one Liberty parallel.
The highlights of the product are many and include . . .
Fan-favorite players along with one of the deepest rookie classes ever to get the 2021 season off to a strong start.
Retro 1987 Signatures and Retro 1987 Materials showcase top rookies and superstars on a classic Donruss design.
Hunt for fan-favorite cards and autographs from The Famous San Diego Chicken.
Look for the return of classic inserts like Dominator and Elite Series to accompany new chases like Unleashed and Trending.
Enjoy the imagery and stay tuned for additional coverage.
2021 Donruss Baseball will be available at the official online store of Panini America beginning Friday at 12 p.m. CST.