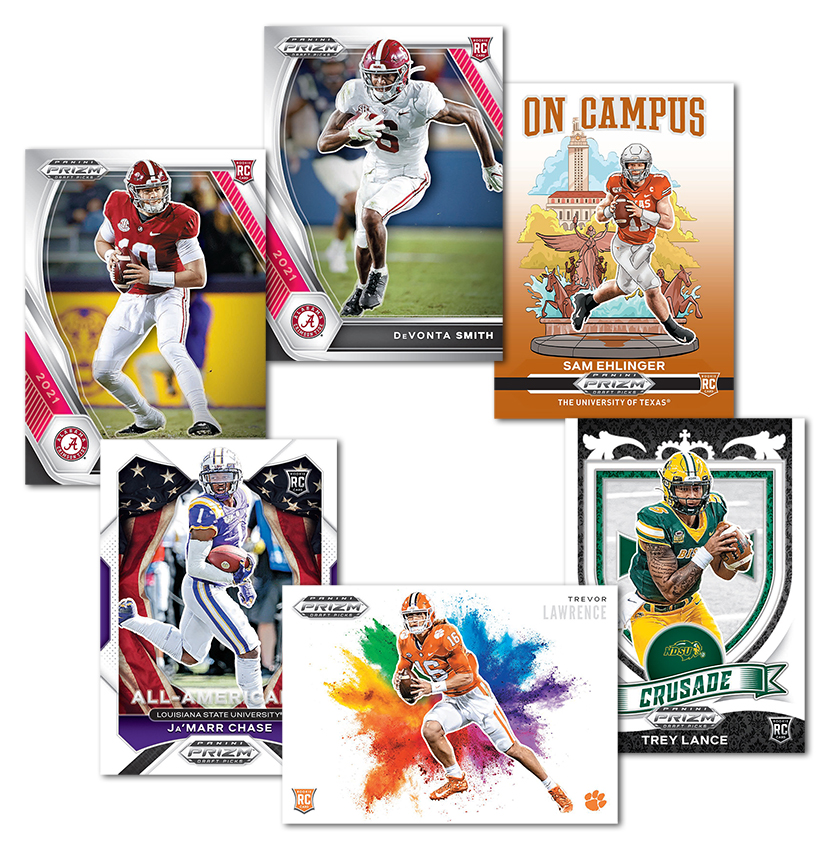 Panini America's highly anticipated 2021 Prizm Draft Picks Football promises to deliver a bigger bang than usual as the first officially licesned trading card product of the new football season when it arrives in late April. After all, it's rare to have an NFL Rookie Class that's as talent stacked as 2021's. Trevor Lawrence . . . DeVonta Smith . . . Trey Lance . . . Ja'Marr Chase . . . Mac Jones . . . Jaylen Waddle . . . and the list, quite literally, goes on and on.
The combination of the powerful Prizm brand and the fact that the product includes the first officially licensed trading cards and autographs of the upcoming NFL Draft Class makes Prizm Draft Picks Football a must-have season-starter every year. But 2021 is taking anticipation to another level. And one look at the preview gallery that follows will underscore why.
On average, each hobby box of 2021 Prizm Draft Picks Football (eight cards per pack, five packs per box, 16 boxes per case) will deliver five autographs, five Silver Prizms and 10 Prizm parallels. The highlights of the product are many and include . . .
The first officially licensed collegiate football product for the 2021 Draft Class.
Every hobby pack should deliver one autograph, one silver Prizm and two additional Prizm parallels, on average.
The first autographs of the highly anticipated 2021 NFL Rookie crop, including Trevor Lawrence, DeVonta Smith, Jaylen Waddle, Mac Jones and so many more.
The super-rare Color Blast insert falling roughly one in every 10 cases.
We'll have a compreshensive preview of the autographs in this set in the coming weeks. But for now, sit back and enjoy this glorious exploration of some of the rookie content packed into the product. And if you think they look good now, well, you're right; but just imagine how much better they'll look on Prizm's trademark Optichrome technology. Stay tuned . . .