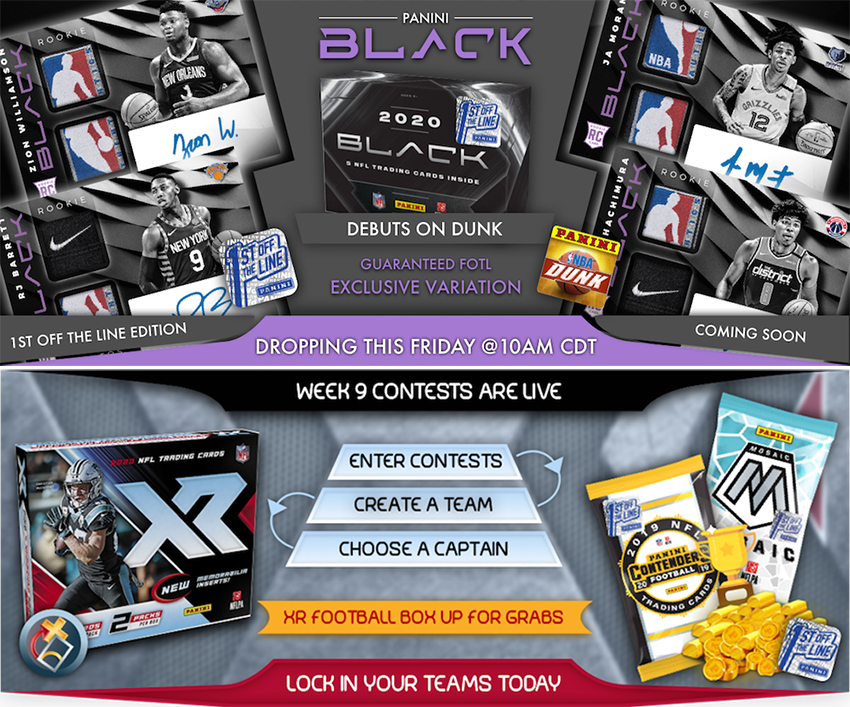 The digital version of Panini America's 2019-20 Black Basketball made its NBA Dunk Digital Trading Card App debut today with a limited supply of 1st Off The Line digital packs including one guaranteed Purple FOTL Variation limited to five or one.
Over on the NFL Blitz Digital Trading Card App, the Week 9 contest slate is already in full swing. This week starts the second half of the season in which injuries and COVID-19 have been issues for teams across the league. Sort through your collections and come up with some winning rosters in the Blitz Week 9 contests. Make sure you have enough 2020-eligible cards to slot in a few contest team variations for any possible scenario, as the 2020 season continues to be a wacky one.
2020 brings a wide variety of contests for you to play. Enter as many as you like and collect the rewards. Be sure your lineups are set before the start of the first game to ensure your team is included.
This week's contests are awarding huge prizes including a box of 2020 XR Football along with FOTL Digital boxes, Packs and big coin prizes.