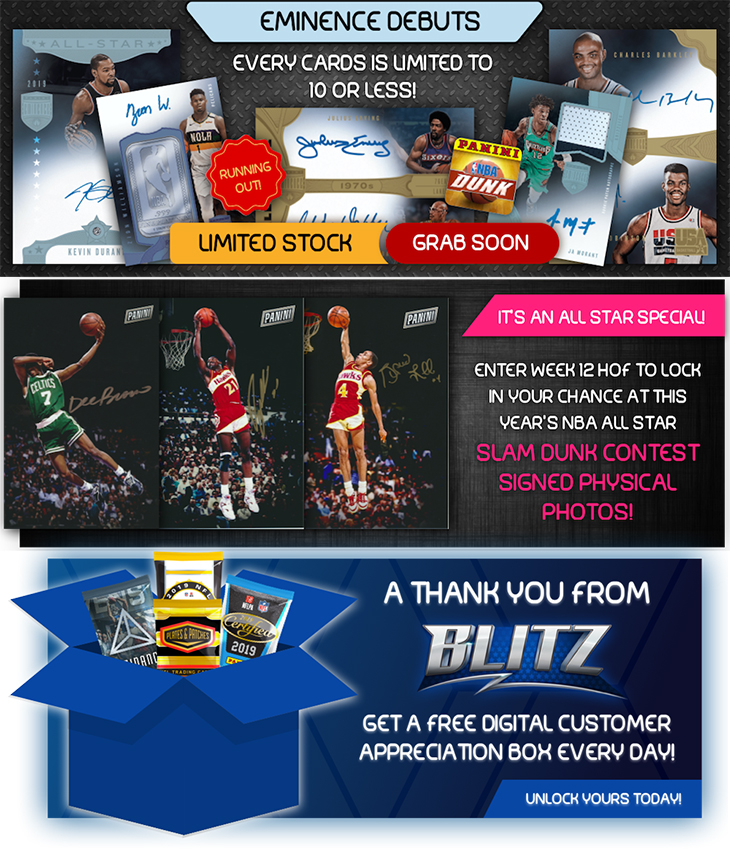 Since we missed out on the full NBA All-Star Weekend experience this season, we wanted to keep the action going for a bit longer in the NBA Dunk Digital Trading Card App. So this week, we have really special contest prizing. Join our HoF contest and places 1 through 3 will win a signed 8-by-10 photograph of some of the most iconic Slam Dunk Contest dunks of all time. The winner will have the first pick, second place will receive second pick and third place will get the third photo. Make sure to grab your highest multiplier cards for this special contest weekend.
Eminence Almost Sold Out
The ultra-premium Eminence Basketball FOTL drop sold out in 20 minutes. But if you missed out on that, make sure you get into Dunk now. Just about 10 percent of the inventory remains, and when it's gone, it's gone. Much like the physical brand, every card in Eminence Basketball will be extremely limited. Some of the most unique memorabilia and autograph cards on the Dunk App can be found within the Eminence set. The Eminence Basketball Pack is filled with Diamond, Precious Metal, Memorabilia and Signatures in every pack. Every card will be limited to just 10 copies or less.
Free Cards For All contest Entrants
If you aren't in this week's contests with a chance to win vintage Slam Dunk autographed photos, be sure to make sure you enter next week. We have a really great giveaway planned for all users who enter into a contest. We can't reveal what it is yet, but keep your eyes peeled.
Free Boxes From Blitz
Missing the NFL season? Yeah, same. To help get you through the football lull, and to brighten your sports weekend, make sure to login to the NFL Blitz Digital Trading Card App daily all weekend long and open a free customer appreciation box. One new box per day will automatically be added to your account.