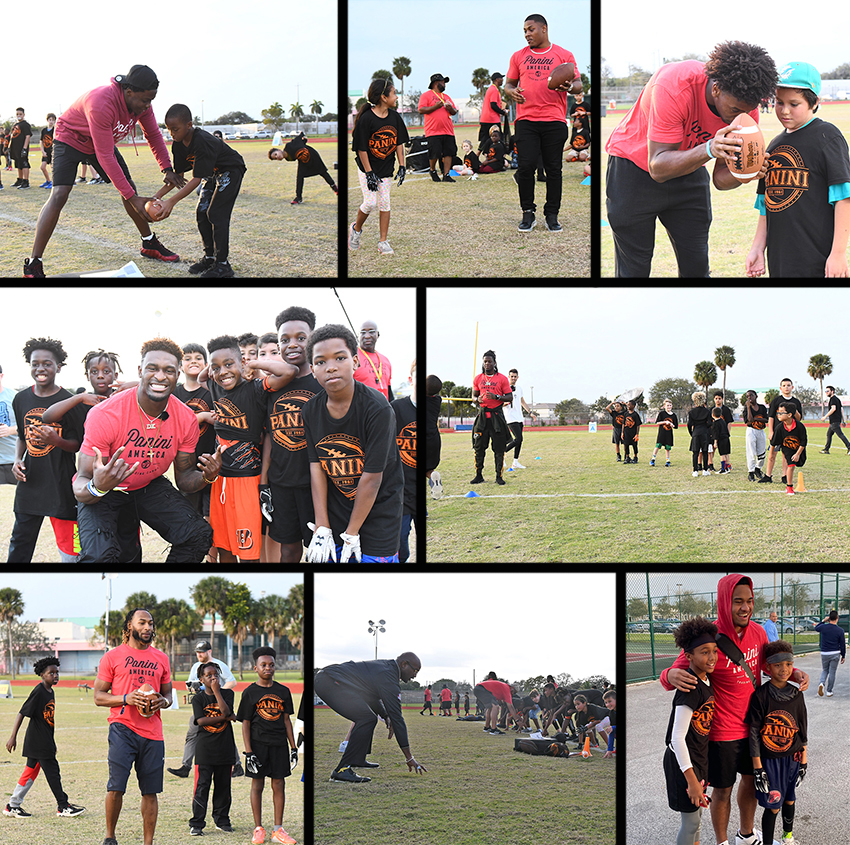 MIAMI — Just two days before Patrick Mahomes and the Kansas City Chiefs knocked off the San Francisco 49ers in Super Bowl LIV, Panini America officials treated more than 150 Miami-area youngsters to the star-studded 13th Annual Panini Skills Clinic in the Super Bowl host city. It was a Friday night filled with stars and forever memories thanks to special guests DK Metcalf, Aaron Jones, Teddy Bridgewater, Josh Jacobs, Tua Tagovailoa, Jerry Jeudy, Antonio Gandy-Golden and Pro Football Hall of Famer Will Shields.
They coached. They inspired. They engaged. And they made a lasting impact. That much was obvious based on nothing more than watching the youngsters' faces as they were put through a series of football drill stations while current and future NFL stars provided real-world instruction and insight.
But no matter how insightful their on-field teachings were, to a man, the NFL stars in attendance — who worked up just as much sweat as the kids they were coaching — stressed the importance of education, passion, having fun and working hard. Those points certainly weren't lost on the young athletes spread out on the Miami Central High School practice field.
You can check out some of the memorable scenes from the 13th Annual Panini Skills Clinic in the gallery that follows. But first . . . the must-see highlight reel . . .
Now, to the imagery . . .