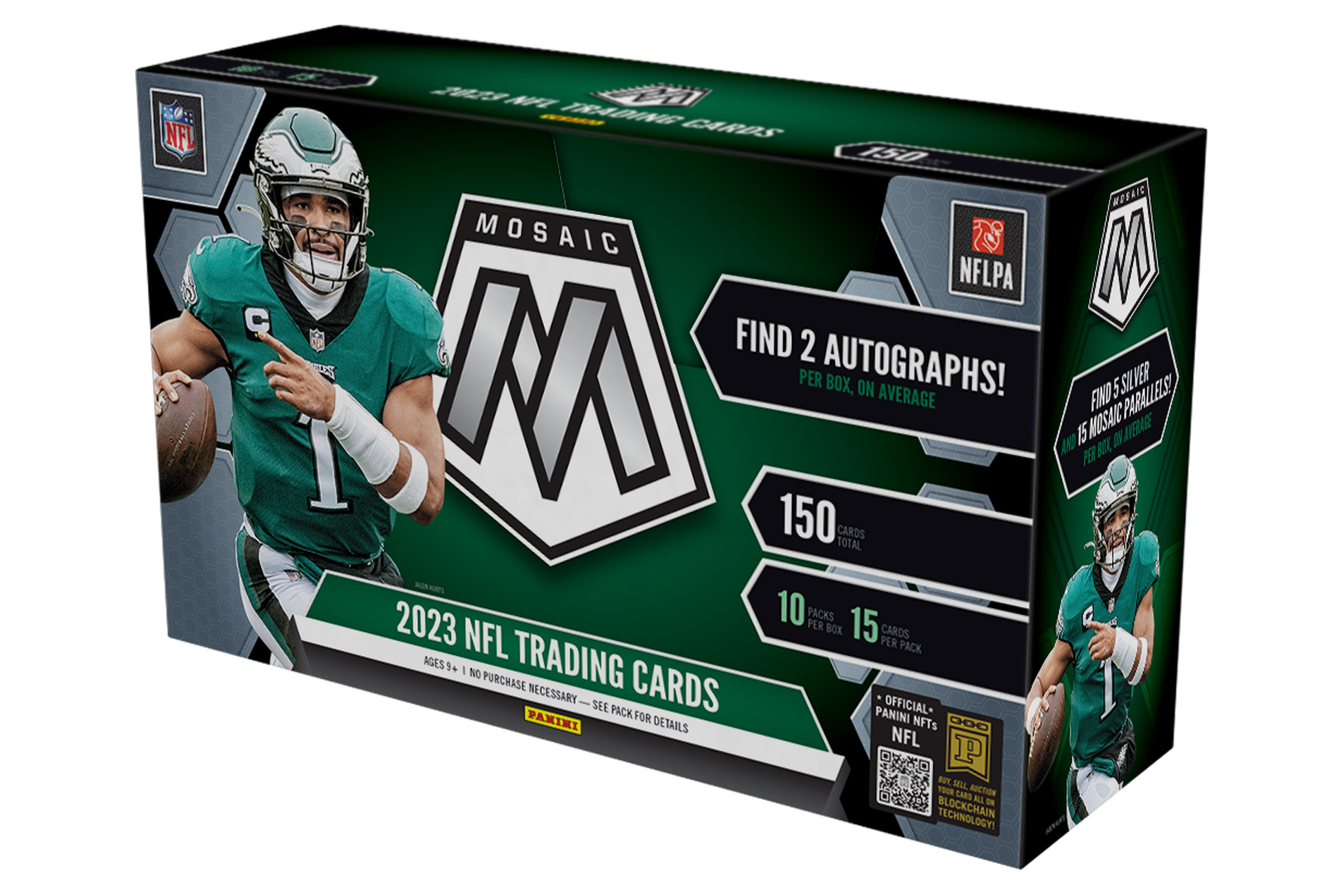 The 2023 NFL Season has all the makings of a great spectacle. Some
franchises are writing new, colorful stories in their history books, whether that be entering a championship window or hitting a reset with exciting young pieces. Others are looking to get over the hump with an established core or return to previous glory before the current chapter closes.
Wherever your fandom lies, Panini's 2023 Mosaic Football is here to help you document it all. Between today's stars, the rookies who will shape tomorrow and the legends who paved the way, the program boasts cards celebrating artistic styles and vibrant personalities.
This is as stacked of a rookie class as there's been in recent memory. Just a sample of the new class:
Anthony Richardson wants all the smoke that comes with being the franchise
quarterback who steps out each Sunday with a blue horseshoe on his white helmet.
Dorian Thompson-Robinson took care of business in the preseason. He picked apart opponents and showed he'll be ready for his turn in Cleveland's signature brown and orange.
Zay Flowers' big-play ability has Baltimore fans excited to see him in purple and black. He's a legitimate option for fellow South Florida native and former league MVP Lamar Jackson.
Jordan Addison looks to be the perfect complement to Justin Jefferson in Minnesota's purple and white threads.
Seattle's Jaxon Smith-Njigba will strive to make every matchup a mismatch in
the team's navy blue and neon green.
Marvin Mims is on the way to taking the Broncos' passing attack and return game to new heights in their signature orange and navy.
Bijan Robinson is indeed that guy, and has been showcasing an otherworldly burst of athleticism every time he touches the ball in Atlanta's black and red.
The rookies aren't the only ones with storylines worth following. There's a host of veterans with something to prove this season.
The Raiders' offensive superstar duo of reigning rushing champ Josh Jacobs and elite receiving threat Davante Adams continue to shimmer for the Silver and Black.
Jordan Love, the new franchise quarterback in the Packers' green and yellow, is another one to keep an eye on, especially after he threw six touchdowns with no interceptions in the first two games of the season.
The 49ers' do-it-all receiver, Deebo Samuel vowed to chew up opponents after feeling like he left meat on the bone in 2022. Bank on him getting back to his superstar self in scarlet red and gold.
One of the NFL's most recognizable players finds himself in a new color scheme in 2023. Star wideout Odell Beckham Jr. put on the Ravens' purple and black, and along with Flowers, should provide a big boost to the Baltimore offense.
What's cool about Panini's Mosaic Football is that each player mentioned here, along with a host of others, packs a punch with exciting autographs.
As always, you can count on Mosaic to deliver a stunning parallel ensemble,
including hobby-exclusive Red, Blue, Purple, White, Gold, Black and new for the 2023 collection: Tessellation.
While you open packs and boxes, look for a dazzling array of vibrant chases,
including hobby-exclusive inserts such as Swagger, Splash, Men of Mastery, Straight Fire and more.
The colorful pageantry of the NFL's greatest stars and hottest rookies comes to life on Optichrome technology in the mesmerizing Mosaic Football.
The vast designs and sharp colors of Panini's Mosaic Football will turn a
section of your collection into a mini art exhibit, blending history and style in the most unique ways.
Related Links:
Panini Trading Cards- Coming Soon
Panini Instant – NIL College Football
College Stars Become an Instant Hit in 2023
Plates and Patches Kicks Off NFL Excitement
Stick the Landing with Panini America's 2023 NFL Sticker and Card Collection
PANINI AMERICA SIGNS MICHAEL PENIX JR. TO EXCLUSIVE AGREEMENT