2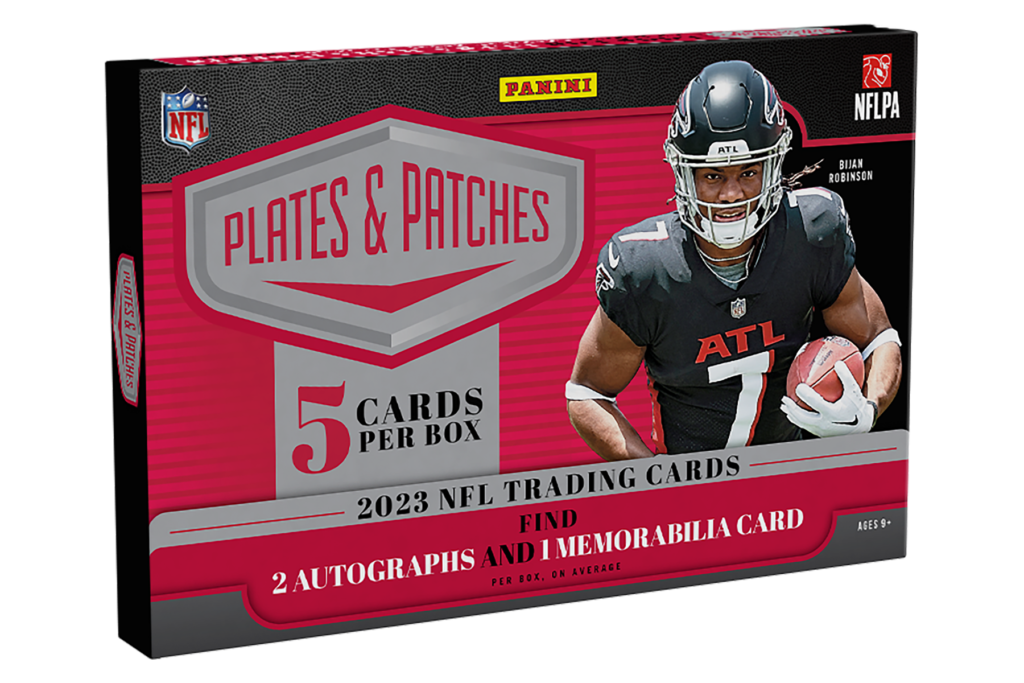 No need to fret, ladies and gentlemen. Returning to the Panini lineup is the beautifully designed NFL Plates and Patches collection. There is plenty to be excited about regarding this release.
Perhaps the most thrilling aspect is the all-new Steel Signatures on metal. Not stopping there, we have base parallels on metal as well.
If neither of those pique your interest, well, you are certainly still in luck as this release is filled to brim with something every collector can appreciate. Looking to get your hands on the 2023 rookie class's first autographs? Look no further because those, along with Rookie Base parallels numbered to 35 or less and printed on metal, can be found within this collection.
That's not all, though. Oh yes, we have plenty more rookie content for those looking to collect the next wave of superstars. Not only do we have the Rookie Base, but Rookie Patch Autographs, Rookie Steel Signatures, Full Coverage, Rookie Upper Echelon, Rookie Reflections and Double Coverage.
If rookies aren't your cup of tea, don't worry. We have an assortment of established superstars and legends to add to your collection with our stunningly designed Steel Signatures and Mettle Moments. Make sure to also keep an eye out for the Ultra-Rare Nuclear insert and an all-new addition, American Metal.
The 2023 NFL Panini Plates & Patches trading card box (hobby) contains five cards per pack, 1 pack per box and 12 packs per case. Football season is officially underway, and this release brings you the chance to get even closer to some of your favorite players. It is sure to be an exciting year once again, so settle in, open some packs and keep tabs on the battle to bring home the Vince Lombardi Trophy.
Related Links:
Stick the Landing with Panini America's 2023 NFL Sticker and Card Collection
Shine Bright With Panini's Luminance