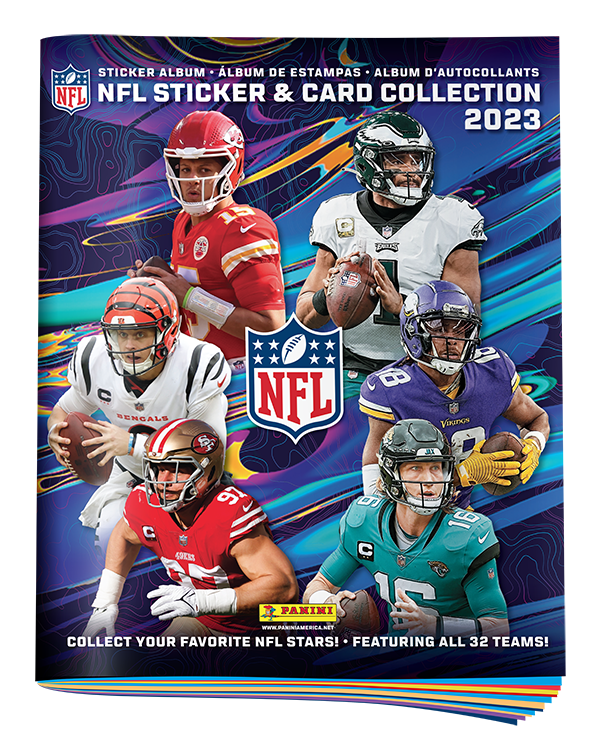 What's the only thing more fun than collecting football cards? Peeling off the back of the card and slapping it into an album, of course. If that sounds like fun to you (don't lie, it does), then let Panini hook you up.
The NFL Sticker and Card Collection is back for 2023, giving adhesive-happy collectors another reason to celebrate the return of football. As the "and Card" part of the title suggests, stickers aren't the only reason to get excited about this release.
Each packet includes five stickers and one card. The 100-card set includes 70 of the game's top stars as well as 30 of the most hyped rookies. These traditional trading cards also feature various parallels of vivid colors, including the striking silver parallel.
If that's not enticing enough, let's dig into the gluey nitty-gritty of this annual set. A 72-page album is shipped empty, ready to house 571 stickers. The bulk of the book is dedicated to the 32 teams, each of which is headlined by 16 stickers. Be on the lookout for Star Player Stickers, which display the franchise's best talents on eye-catching shiny foil.
Some non-team-specific pages look back to the 2022 season, while others take a peek ahead. Special pages (and corresponding stickers) celebrate Super Bowl LVII and the 2023 NFL Draft.
If you're a longtime fan of the NFL Sticker and Card Collection, happy stickin' this year! If you're a newbie looking to get into the tradition, there's no better year to start than this one.
Related Articles
Chase Begins for the FIFA Women's World Cup 2023™ and Panini Stickers
PANINI AMERICA SIGNS MICHAEL PENIX JR. TO EXCLUSIVE AGREEMENT
PANINI AMERICA SIGNS ARCH MANNING TO FIRST NIL PARTNERSHIP WITH EXCLUSIVE AUTOGRAPH TRADING CARD AGREEMENT WITH CHARITABLE COMPONENT
PANINI AMERICA SIGNS QUINN EWERS TO EXCLUSIVE AUTOGRAPH TRADING CARD AGREEMENT