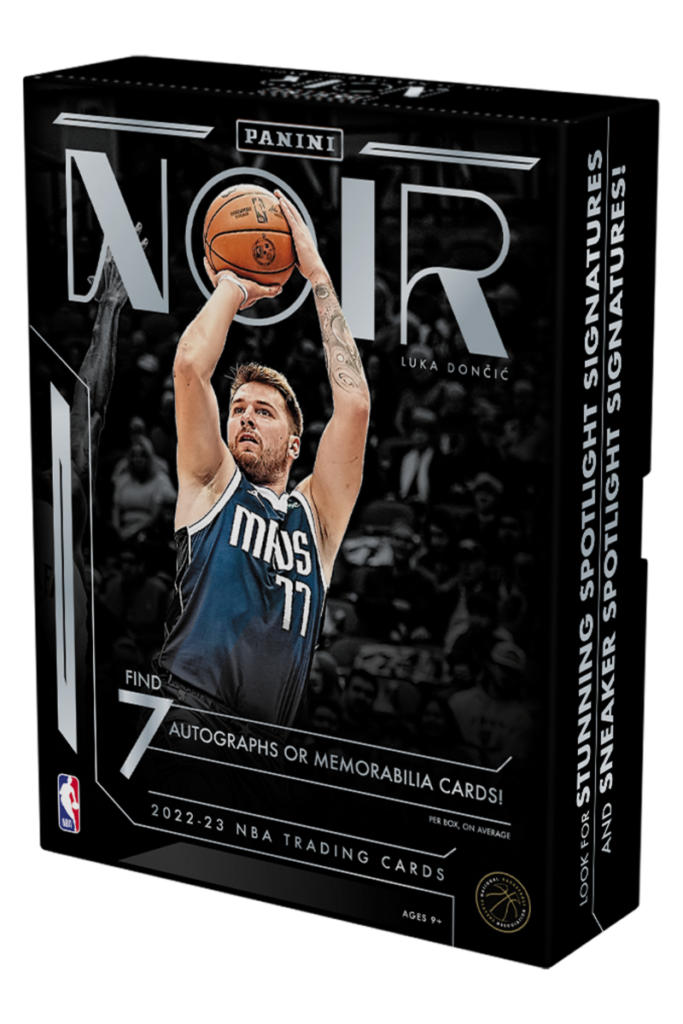 From lighting to blocking to direction, Hollywood movies do all they can to make sure the star is in the middle of the shot. Panini America took a page out of Tinseltown's toolbox for its 2022-23 Noir Basketball release.
The flashy program boasts beautiful designs ripe for the silver screen. With vibrant colors, spotlight focusing and background blurring, you're sure to get a crystal-clear image of an NBA star. The photo will likely be of the player's full body, unless it's a highly sought-after Sneaker Spotlight Signature card. Those anticipated inserts have more feet shots than a Quentin Tarantino flick.
That director's films are a little too new for what some 2022-23 Noir cards draw inspiration from. Inserts like Vintage Art, Casting Call and the brand-new Roll Credits all look like something you'd find in a black-and-white film.
Split Screen, another retro-style insert, gives collectors a matinee and an encore in one package. It features must-see double features with players like Paolo Banchero, Giannis Antetokounmpo, Luka Dončić and Donovan Mitchell.
We know you blog-skimming collectors are turning into Brad Pitt in "Seven" by this point. So, we'll skip the suspense and just go ahead and tell you what's in the box.
In every hobby box of 2022-23 Noir Basketball, you get 10 cards, including four autographs and three memorabilia cards (on average). The First Off the Line variant, which releases on Thursday, October 12th, is even sweeter, with one bonus card.
The FOTL exclusive glows like the inside of Marsellus Wallace's briefcase, so we won't give too much away. Let's just say it's a gold-framed card that's numbered to 11.
Also be on the lookout for parallels, and these aren't the same-old usual suspects. Noir basketball boasts uniquely eye-catching parallels that turn cards from indie hits to true blockbusters. Gold (numbered to 10), Holo Gold (to five) and platinum (1-of-1) are the blue chips here.
If you're a veteran card collector, you don't need any more convincing. You're already made. If you're not yet into the game, but always wanted to be a collector as far back as you can remember, this is a perfect time to get in on the action.
Related Articles
WNBA Finals Preview: Strength vs. Strength
Panini America's WNBA Prizm Releases Just in Time for the WNBA Finals
Survive the NBA offseason with Contenders Optic Basketball