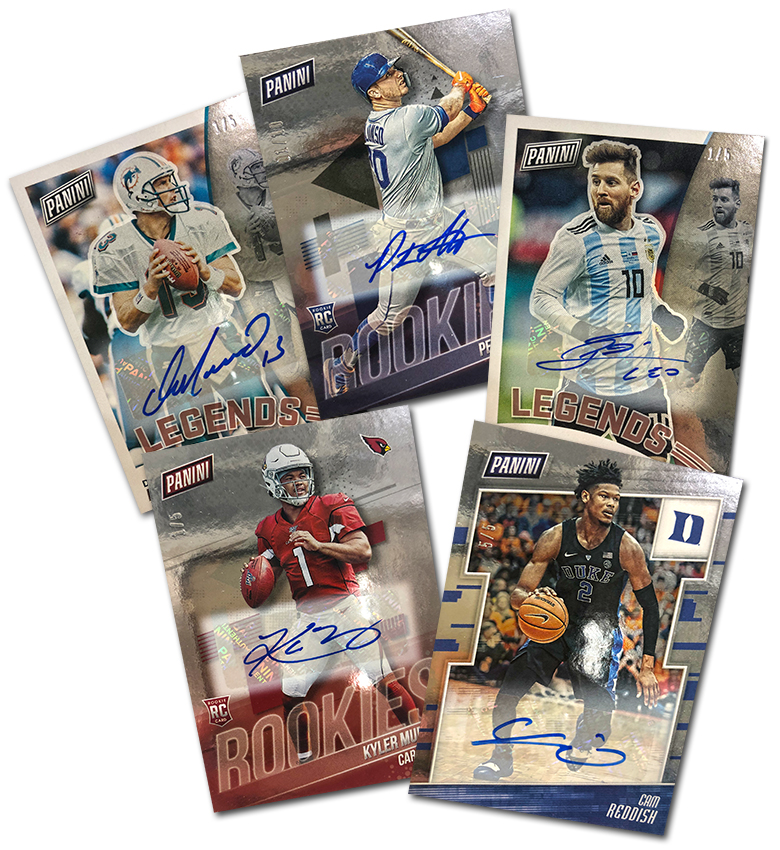 Our wall-to-wall preview coverage of Panini America's big plans for the upcoming 2019 National Sports Collectors Convention continues unabated today here on The Knight's Lance with a special peek at just some of the autographs created for insertion in the company's show-stealing wrapper-redemption program.
Much like the previews you've already seen for the Panini America wrapper-redemption program, the autograph roster is designed to impress and includes current superstars, hot rookies and all-time greats from the worlds of baseball, basketball, football, soccer, NASCAR and more.
The gallery below showcases just some of the ink included in this year's wrapper-redemption program. Enjoy the sneak peek and stay tuned to The Knight's Lance for continued coverage of the 2019 National Sports Collectors Convention.
And check out the links below for our 2019 National preview coverage so far:
Panini America Peeks 2019 National VIP Set Featuring R.J. Barrett, Kyler Murray and More
Limited Number of National Super VIP Party Tickets Offered on iCollectPanini.com
Panini America Spies the Parallels, Memorabilia Cards Coming to 2019 National Promotion
Panini America Returning Live Redemption Trade-Up Program to the 2019 National
Free Kids Breaks, Country's Top Breakers to Fill Panini America Booth at 2019 National
Panini America Releases Box Wars Schedule for This Week's 2019 National Convention
Panini Digital Unveils Big Plans for the 2019 National Sports Collectors Convention