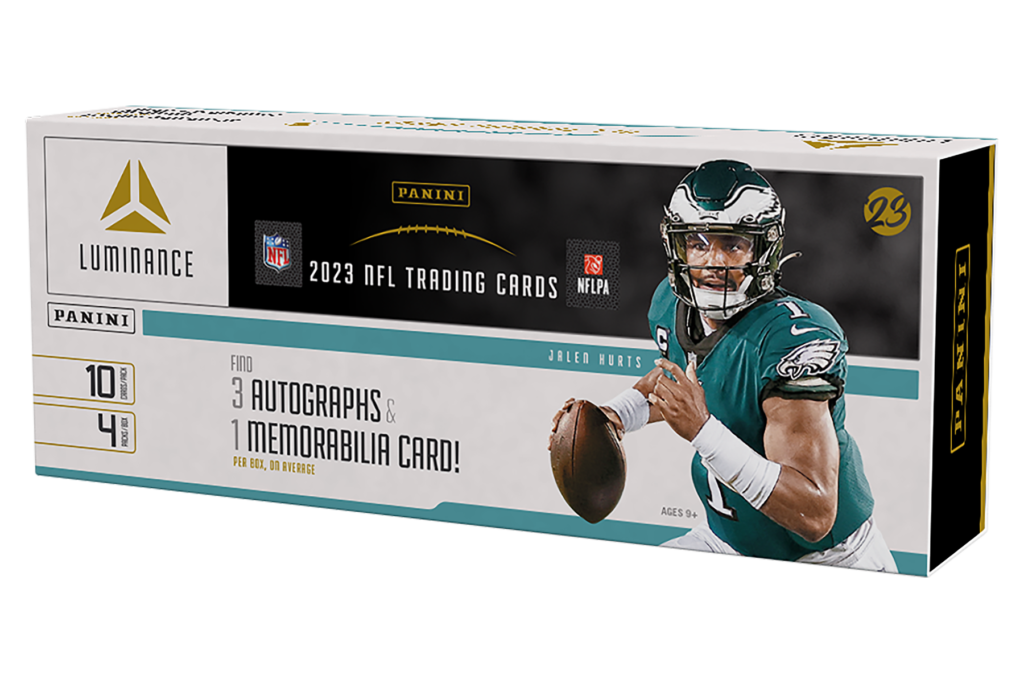 You might be wondering how Panini continues to up the ante year after year, creating gorgeous releases that have collectors clamoring for the most sought-after cards. Unfortunately, that is not a secret that can be divulged.  We've done it again, though, nailing the upcoming release of Luminance Football.
Oh, and we also have FOTL Encased Football releasing on Aug. 22, 2023, and FOTL Donruss Elite Football on Aug. 24, 2023.
There are plenty of reasons to purchase this new collection. Chief among them, of course, is your opportunity to pull some of the first cards of 2023's exciting crop of rookies before they set foot on the field and show everyone exactly why their respective teams used a valuable draft pick on them.
Perhaps you're a fan of autograph chasing and enjoy the thrill of pulling a card with a rookie's signature. If that is the case then this release is perfect for you, as there will be no shortage of opportunities to do just that. Which should you keep an eye out for? Well, allow us to take you on a small trip to highlight them.
Starting out in the Midwest city of Indianapolis, Anthony Richardson is ready to take the reins as the new Colts' franchise quarterback. After watching him dice up defenses with his ability to run for first downs and deliver 60-yard touchdown strikes, celebrate by pulling his stunning on-card autograph.
Then we board a flight to beautiful Los Angeles where the Rams watch rookie signal-caller Stetson Bennet IV methodically pick apart opponents, finding holes in their coverage as he marches the offense down the field. One last plane to the other side of the country will take you to Atlanta, home of perhaps the most exciting rookie — Bijan Robinson. The electric back needs just one touch to make something happen, taking the handoff and gliding 70 yards untouched to pay dirt.
Should those rookies not be enough to entice you, this collection features the Luminosity insert, which are some of the most prized pulls in the trading card industry. Joining Luminosity in this release is the debut of Animation, featuring some of the NFL's biggest names in a breathtaking Animation style that puts a new twist on the hobby everyone loves.
Related Links:
NFL National Treasures Hunt Gets Underway
Collect Panini's Illustrious Immaculate Collegiate Football
NFL Fans Guaranteed to Score Big with Score
PANINI AMERICA EXTENDS PARTNERSHIP WITH THE DAN PATRICK SHOW