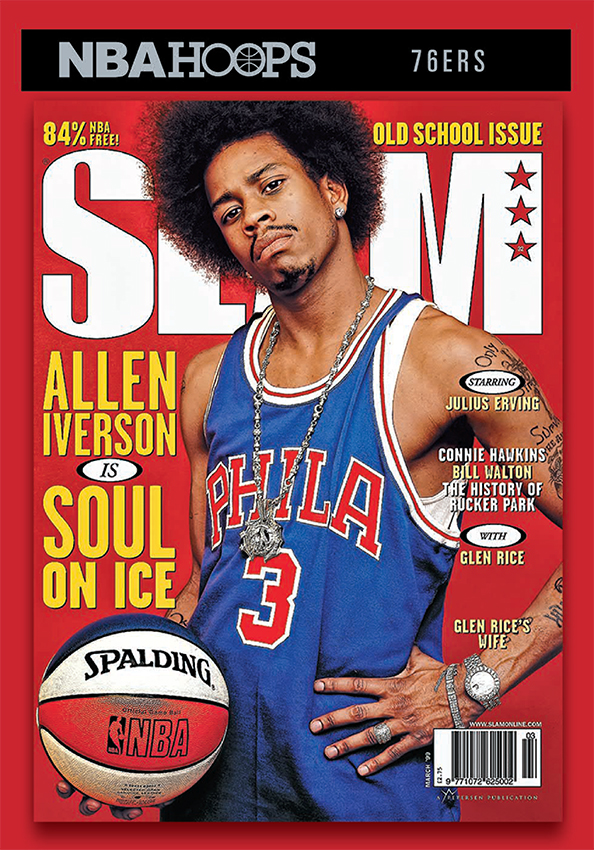 Last February, just weeks before a global pandemic began ravaging the U.S., and altering — in some ways seemingly forever — the way business gets done, some business was getting done the old-fashioned way. Face-to-face, through spirited conversation among passionate professionals.
The setting in this case? Inside Panini America's All-Star VIP Lounge in Chicago during 2020 NBA All-Star Weekend. The principals? SLAM Media Inc., President Dave Schnur, Panini America Vice President of Marketing Jason Howarth, and Panini America NBA Product Developers David Porter and Keith Hower. The topic of discussion that day? Turning SLAM's iconic magazine covers into an iconic trading card set.
For Schnur, a kid who grew up both collecting cards and reading SLAM, the concept was an absolute no-brainer. Now 34, he still collects cards (now in concert with his son, 5). He still loves SLAM. Only now, he has a 20-card, retail-exclusive insert in the new 2020-21 NBA Hoops Basketball product to call his very own.
"I grew up on NBA Hoops the same way I grew up on SLAM," says Schnur, who's been with the brand for 13 years. "I think the marriage is a perfect one. It made so much sense for us to be in Hoops because of accessibility and audience. Everybody's going to have the opportunity to get SLAM cards.
"For me to see SLAM on a card and have it be a project that was under my supervision is surreal. It's really like coming full circle for me. 7-year-old Dave would have dreamed of being able to execute a project like this with the biggest card manufacturer in the world. It's so cool."
Indeed it is. And early feedback from collectors has been nothing short of sensational. The first SLAM cards started appearing on the market late last week as 2020-21 NBA Hoops Basketball Blasters and Fat Packs made their way to retail shelves. More are sure to follow in the coming days when the product's Mega Box and Winter Edition SKUs arrive.
The 20-card insert and its slick Holo parallels are randomly inserted across all NBA Hoops retail SKUs; Winter Edition and Winter Edition Holo versions feature the exclusive "snowflake" pattern, and Purple Explosion and Green Explosion (numbered to 89) versions are Mega Box-exclusive SPs.
"My son is obsessed with video breaks and this whole time I had this vision in my head of a kid doing a basketball box break and getting a SLAM card," Schnur said. "I finally found that moment last week on Instagram of this guy breaking a pack and yelling like 'SLAM Luka! Let's go!' and all I could think was, 'This is amazing.' It was a trip."
We offer a complete gallery of the 20-card set below. But first, Schnur had a lot more to say about the trading card marketplace, his affinity for it and the SLAM trading card project. Some of the highlights . . .
On his return to collecting . . .
"I just recently got back into cards about two years ago because I started giving my son, who was 3 at the time, my old cards. Then I started buying him packs and blasters and opening them with him. As the collectibles market has continued to explode, I was just thinking of how we could get SLAM into this collectibles market."
On the cards/sneakers crossover . . .
"There are a lot of parallels between the sneaker and card markets both in audience and economics. Card flipping is becoming as popular and as lucrative as sneaker reselling among teenagers and any time there's an opportunity for us to reach this young, core SLAM consumer, I want to take it. Cards are much easier to store, they're easier to flip. It's just a great place for us to continue to develop our relationships with basketball fans."
On collecting and reading SLAM in his youth . . .
"I've been reading SLAM since I was 8, I've been collecting cards since I was 6 or 7. Whenever I got allowance I would run right to Big Top, our local toy store, and I would spend it on cards. I got silver dollars from the 1930s from my grandpa for holidays, I would spend them on cards. I didn't care, I just needed to get my cards."
On the wide variety of cover subjects in the insert set . . .
"It's really exciting to see people get amped about old covers. It's great that we have a Ja Morant card and an Allen Iverson and a Tim Duncan and a Kobe. It really just runs the gamut from 1994 through 2021. I love the range of the cards."
On his favorite card in the set . . .
"Iverson was always my favorite player growing up and he's really like the quintessential SLAM guy, so that's probably my favorite."