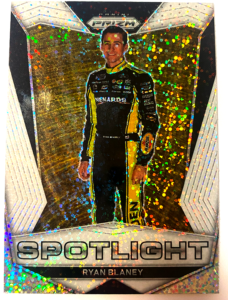 Winning is fun. Winning at Talladega is a thrill. Winning at Talladega by a nose is the ultimate blast.
Winning at Talladega by a nose more than once? Ryan Blaney would know.
The Team Penske driver claimed his third win on the 2.66-mile superspeedway on Sunday, by .012 seconds, in the second race of the Round 12 in the NASCAR playoffs. It punched his ticket to the eight-driver quarterfinals, where he joined William Byron, the winner the previous week at Texas.
"Just a neat day. Fun day," Blaney said. "It's always fun to win these things, and you have to appreciate them because they're so hard to do."
In 2020, Blaney won the June race at Talladega by .007 seconds over Ricky Stenhouse Jr. In 2019, he won the fall race over Ryan Newman by .007 seconds, also.
"Sometimes they go your way, sometimes they don't," said Blaney, who guaranteed himself no worse than an eighth-place points finish for the third straight year and top-10 for the seventh straight year. "Sometimes you lose them by 5 feet, and sometimes you win them by 3 or 4 feet."
He's not alone in that feeling. Right behind Blaney and Byron at the finish on Sunday was Denny Hamlin, whose third-place finish pushed him 50 points above the cutline for the Round of 8, a secure position the veteran racer relished.
"That was a dub in our book," he said after his day included a speeding penalty. "Top-five is a long way from where we were with about 15 laps to go."
Also to the good in points are Christopher Bell (+22), Chris Buescher (+19), Martin Truex Jr. (+17), Kyle Larson (+15) and Brad Keselowski (+2).
Below the line, facing elimination with one race left in the round — next week's Bank of America ROVAL 400 at the hybrid oval/road course at Charlotte Motor Speedway — are Tyler Reddick (-2), Bubba Wallace (-9), Ross Chastain (-10) and Kyle Busch (-26).
But that race is days away. For now, everyone resets and Blaney celebrates.
"You have to really appreciate whenever you can win here," he said of his Alabama trip. "We've been lucky enough to win here three times. … It's just such an up-in-the-air thing. You never know if it's going to work out for you or not."
Related Links
A Real Wild Card: Talladega Gives Playoff Drivers Chance to Rally
No Matter What You Call Him, Byron Impressive in Win at Texas
Hamlin Riding High After Victory at Bristol
Bristol Brings It All: Saturday Night Short-Track Elimination Race