University of Nebraska Volleyball Star Joins Panini As First Female NIL Athlete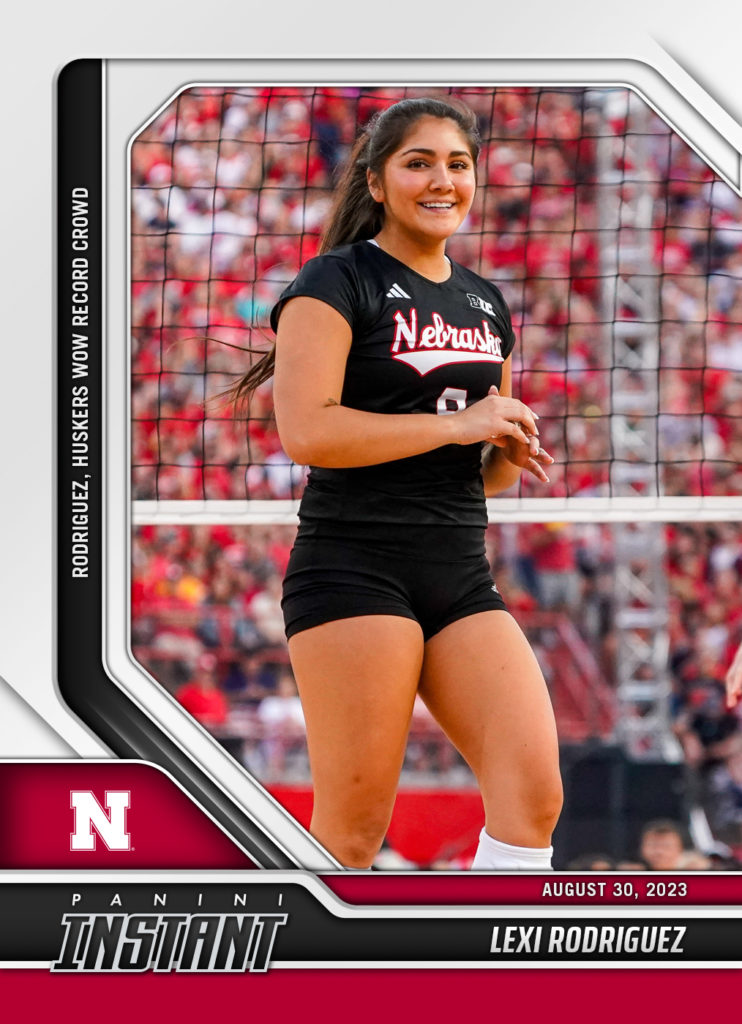 Irving, TX – Oct. 30, 2023 – Panini America, the world's largest sports and entertainment collectibles company, has announced a trading card partnership with two-time All-America volleyball player Lexi Rodriguez of the University of Nebraska. This represents Panini's first NIL partnership with a female collegiate athlete as Panini continues to expand its NIL roster of athletes.
Rodriguez is a DS/Libero for the Cornhuskers, who ascended to the top spot in the latest American Volleyball Coaches Association (AVCA) poll after defeating the University of Wisconsin on October 21st. Earlier this season, Nebraska set a record for the most fans attending a women's sporting event, when 92,003 people saw the Cornhuskers defeat Omaha at Nebraska's Memorial Stadium.
A junior, Rodriguez was the AVCA Freshman of the Year and first-team All-America in 2021, and then was named second team All-America last season. The Sterling, Illinois, native is also a two-time first team All-Big Ten selection.
"Being the first female NIL athlete for Panini is such a huge honor! There's lots of deals out there for men's sports, so I am super excited that Panini is also turning to providing opportunities for women's sports in NIL and I'm grateful they have chosen me to be the first," said Lexi Rodriguez, University of Nebraska Women's Volleyball. "This is just another opportunity that little girls will see that can give them hope for the future of women's sports and being able to collect their favorite players!"
Rodriguez's first Panini trading cards will launch with Panini Instant, Panini's real-time direct to consumer product that celebrates key sports moments and is available at www.paniniamerica.net. As part of the partnership Rodriguez will also take part in Panini NIL marketing initiatives.
"Lexi is an outstanding athlete and a trailblazer for us, in that she represents our first partnership with a female collegiate NIL athlete," said Jason Howarth, Senior Vice President of Marketing and Athlete Relations for Panini America. "We look forward to featuring her as part of our NIL products and taking part in marketing initiatives."
Rodriguez joins the likes of other NIL athletes including University of Texas quarterbacks Quinn Ewers and Arch Manning, University of Washington quarterback Michael Penix Jr. and wide receiver Rome Odunze, University of Tennessee quarterback Joe Milton, USC wide receiver Zachariah Branch, as well as top MLB prospects Dylan Crews and Paul Skenes, 2023 NBA Draft Picks Amen and Ausar Thompson, 2024 NBA prospects Matas Buzelis and Ja'Kobe Walter and 2025 NBA prospect Tre Johnson as athletes who have recently joined the Panini family.
About Panini America
Panini America is a subsidiary of The Panini Group, established over 60 years ago in Modena, Italy with subsidiaries throughout Europe, Latin America, and the United States. Panini is the world leader in officially licensed collectibles and is the most significant publisher of collectibles in the U.S., with official licenses for NFL, NFLPA, NBA, NBPA, NASCAR, FIFA, UFC, WWE, College, Disney and other key properties from many other licensors. Panini is also the exclusive trading card and sticker partner of the Pro Football Hall of Fame, Naismith Memorial Basketball Hall of Fame, Elite 11 and Pop Warner Little Scholars, Inc.
Panini has distribution channels in more than 150 countries and employs a staff of over 1,200. For more information visit us at www.paniniamerica.net, www.paninigroup.com or
http://blog.paniniamerica.net/. You can also follow Panini America on social media platforms Facebook, Twitter, YouTube and Instagram.
# # #
CONTACT:
Holden Hill, Taylor Strategy
Related Links
Shop Lexi Rodriguez's First NIL Trading Card
PANINI AMERICA SIGNS JOE MILTON TO EXCLUSIVE AGREEMENT
PANINI AMERICA SIGNS UNIVERSITY OF WASHINGTON WIDE RECEIVER ROME ODUNZE TO EXCLUSIVE TRADING CARD AGREEMENT
PANINI AMERICA SIGNS MICHAEL PENIX JR. TO EXCLUSIVE AGREEMENT
PANINI AMERICA SIGNS ARCH MANNING TO FIRST NIL PARTNERSHIP WITH EXCLUSIVE AUTOGRAPH TRADING CARD AGREEMENT WITH CHARITABLE COMPONENT
PANINI AMERICA SIGNS QUINN EWERS TO EXCLUSIVE AUTOGRAPH TRADING CARD AGREEMENT
PANINI AMERICA SIGNS TRE JOHNSON TO EXCLUSIVE MULTI-YEAR AGREEMENT