One of Baseball's Top Prospects is the Latest Star Athlete to Join the Panini Roster 
Irving, TX – August 29, 2023 – Panini America, the world's largest sports and entertainment collectibles company, has announced a partnership with Dylan Crews, picked second in the 2023 MLB Draft by the Washington Nationals and this season's Golden Spikes Award winner as the top amateur player in the country.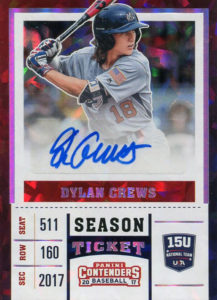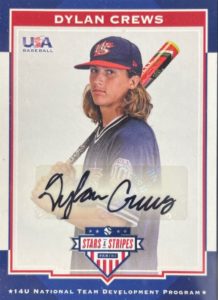 Panini's partnership with Crews, who helped lead LSU to the NCAA title in June, is a multi-year deal. He will initially be featured in Panini's 2023 Elite Extra Edition Baseball set, including packaging and point of purchase materials, and then moving forward will be showcased in additional Panini products. This is not Crews' first appearance on Panini products – as a member of Team USA he was included in the 2017 Stars and Stripes Baseball and Panini Contenders sets.
Crews, an outfielder who currently plays for the Nationals' AA affiliate in Harrisburg, joins the likes of University of Texas quarterbacks Arch Manning and Quinn Ewers, 2023 NBA Draft Picks Amen and Ausar Thompson, and 2025 NBA prospect Tre Johnson as athletes who have recently joined the Panini family.
"Dylan is a great addition to our expanding athlete roster at Panini," said Jason Howarth, Senior Vice President of Marketing and Athlete Relations for Panini America. "He has been one of baseball's most promising prospects for years, and his professional career is off to an excellent start. We look forward to offering his products to baseball fans."
About Panini America
Panini America is a subsidiary of The Panini Group, established over 60 years ago in Modena, Italy with subsidiaries throughout Europe, Latin America and the United States.  Panini is the world leader in officially licensed collectibles and is the most significant publisher of collectibles in the U.S., with official licenses for NFL, NFLPA, NBA, NBPA, NASCAR, FIFA, UFC, WWE, College, Disney and other key properties from many other licensors. Panini is also the exclusive trading card and sticker partner of the Pro Football Hall of Fame, Naismith Memorial Basketball Hall of Fame, Elite 11 and Pop Warner Little Scholars, Inc.
Panini has distribution channels in more than 150 countries and employs a staff of over 1,200. For more information visit us at www.paniniamerica.net, www.paninigroup.com or
http://blog.paniniamerica.net/. You can also follow Panini America on social media platforms Facebook, Twitter, YouTube and Instagram.
# # #
CONTACT:
Holden Hill, Taylor Strategy
PANINI AMERICA SIGNS ARCH MANNING TO FIRST NIL PARTNERSHIP WITH EXCLUSIVE AUTOGRAPH TRADING CARD AGREEMENT WITH CHARITABLE COMPONENT
PANINI AMERICA SIGNS QUINN EWERS TO EXCLUSIVE AUTOGRAPH TRADING CARD AGREEMENT
PANINI AMERICA SIGNS TRE JOHNSON TO EXCLUSIVE MULTI-YEAR AGREEMENT
PANINI AMERICA SIGNS NBA DRAFT TWINS AMEN AND AUSAR THOMPSON TO EXCLUSIVE MULTI-YEAR AUTOGRAPH TRADING CARD AND MEMORABILIA AGREEMENTS