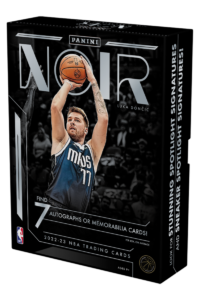 Halloween is just around the corner, and with it comes everyone's favorite aspects of spooky season. From scary movies to fun costumes, people everywhere love going all-out for their favorite eerie holiday.
However, we'd be remiss not to mention arguably the best part. Well, trick-or-treating, of course! Fortunately for you, we're feeling generous at Panini and are letting you trick-or-treat with us early. Grab your costume and your card bucket and come along as we reveal the sweet treats of Noir Basketball.
So maybe we might have fibbed a tiny bit. There won't be any tricks in this release, only treats. The first house we're coming up to is the House of Rookies, occupied by budding young superstars such as Paolo Banchero, Chet Holmgren and Jalen Williams.
While a crispy chocolate bar would hit the spot, a sweeter surprise comes your way with Rookie Patch Autographs, which include a Gold RPA parallel numbered to 10. Before we move on to house No. 2, be sure say "thank you" and look for Patch Autographs, including Laundry Tag parallels of Stephen Curry and Dwyane Wade.
Come along and don't fall behind as we make our way to Spotlight Signatures. A staple in the Noir Basketball neighborhood, this house has been a favorite since the collection's inception. Here you'll find scary-good photography and autos of legends and current stars, from Manu Ginobili and Charles Barkley to Jayson Tatum and Anthony Edwards across vertical and horizontal variations.
Of course, not all the houses are older. In fact, our very next stop is a new addition to the collection: the gorgeous Night Lights Autographs. Each is numbered to 25, and signers include Cade Cunningham, James Harden, Anthony Edwards, Jayson Tatum and many more.
Only three houses left, but these are where you'll get your king-size candy. Or in this case, the most sought-after cards. Ring the doorbell of Sneaker Spotlight Signatures and wait in excitement for the sneaker delights they drop in your bucket. You could be the recipient of the first-ever sneaker spotlight autograph cards of Anfernee Hardaway and Shawn Kemp! The absolute must-have, though, is Curry's Look card, which features the shoe he wore when he broke the all-time 3-pointers record.
Our penultimate stop on our excursion is Game Night Jerseys. Another newcomer, it features game-dated memorabilia, including stars (Klay Thompson, Kawhi Leonard, LeBron James) with NBA Finals game-worn memorabilia. The date that the jersey was worn is on the card. This set includes prime and super prime for various players.
Last, but certainly not least, is Showtime Signatures. While you're decked out in costume, these players often come to the arena in extravagant outfits. Highlighting that, this set shows your favorite players boasting their best off-the-court game-day gear.
Related Links
Don't Let Panini's Flux Basketball Go Over Your Head
Aces are Queens Again: Las Vegas Wins Second Straight WNBA Title
PANINI AMERICA SIGNS TIM DUNCAN TO EXCLUSIVE MULTI-YEAR PARTNERSHIP FOR AUTOGRAPHED TRADING CARDS